Adopt Me is a wildly popular role-playing game where you get to be parents of cute little pets. Take care of them as you would care for one in real! Buy gifts, interact with other pet parents, customize your character, or explore the locations on the vast map. The game is super fun the entire time. You can even pet a Cobra. How awesome is that? You can even choose to accessorize your pets too.
Oh wait, there's something else too. Someone can adopt you as well. Be the baby even if you are an adult now. Get pampered and choose what you want to do as a baby. Additionally, there is an in-game currency called Robux, using which you can buy stuff like vehicles, accessories, gifts, and other items. Overall, it is a great game to play with your friends or meet new people with similar interests.
Every game has a few algorithms to help determine fraud or spam. Adopt Me is not an exception. Banned from the game and looking for ways to fix it? Read this article to know more.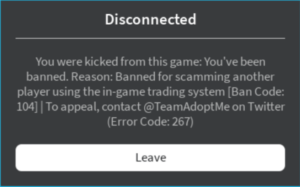 Adopt Me Ban: Banned by mistake?
So, you think you were banned even if you were not involved in any suspicious activity. That's harsh. We understand the situation you are going through; it's not easy. However, Adopt Me's developers claim that they wouldn't ban any player without proof. An assigned Adopt Me team member looks into the reports exclusively. There is no automated system that scans and bans players. Hence, the chances of banning a player without any reason are significantly less. If you still think you might be restricted by mistake, here is what you can do to bring back your precious account.
Report a false ban from the support page of Adopt Me. You will have to fill out an appeal form. Click here to report.
Once you are ready to submit a ticket, select "I want to appeal an Adopt Me ban".
Remember the error code in the ban message. Please include it in the ticket description.
You may also contact the Twitter support page of Adopt Me @TeamAdoptMe to report a false ban.
Trading pets is a give and take; we request players not to violate someone else's sentiments by scamming. However, there is a possibility that your account was banned by mistake or may even be compromised. Reporting helps to sort things out as soon as possible.