The Japan Egg update is around the corner and folks can't wait for it to roll out. So, if you're curious about the Countdown End Time and the new pets list for this update, then continue reading the article. The developers start a timer whenever the news for a new update is confirmed. This allows the players to prepare themselves for the new content. So, if you are looking for more information as well, then you don't have to look any further. In this article, we will tell you everything that you need to know about Adopt Me Japan Egg Countdown End Time & New Pets list. Stick with us till the end.
Adopt Me is arguably one of the most popular games on Roblox. The game has a huge player base comprised of both kids and adults. The goal is to hatch eggs and then raise the pets. Each pet has a different rarity and the legendary or epic ones are harder to get. With new updates, the developers add new pets to the game and also new eggs that include a variety of pets. So, far, we have had a lot of such eggs like the Mythic Egg, Woodland Eggs, and many more. Now, it is time for the Japan Egg to hatch. So without any further ado, let us proceed with the main topic.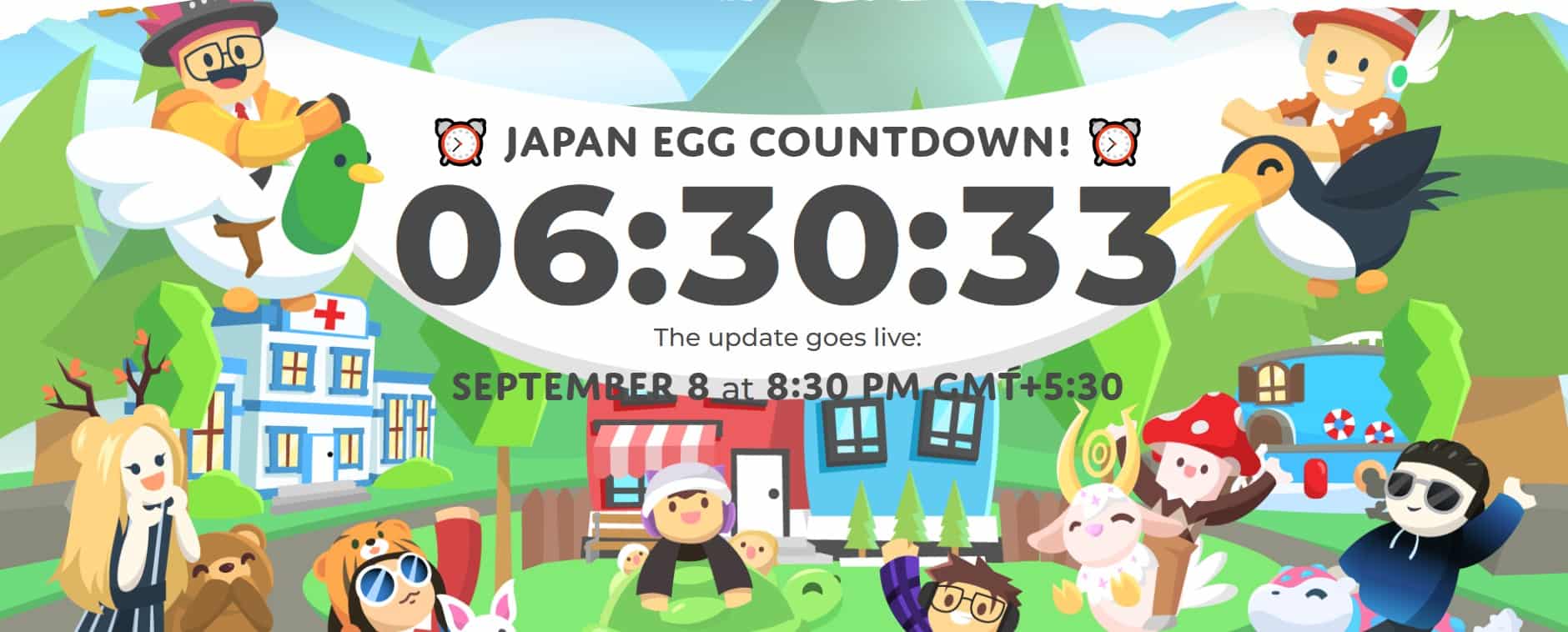 Adopt Me Japan Egg Countdown End Time & New Pets list.

As of writing this article, there are 6 hours left in the Japan Egg countdown timer in Adopt Me. The update will go live on September 8th at 8:30 PM GMT+5:30. The developers have revealed a lot of new pets that you will get to hatch in this update. There are some very exciting and unheard animals that will make an entry into the game. We have listed all of them below with their rarity for you to see. So, let us check out the list.
1) Baku- Legendary
2) Maneki- Neko- Legendary
3) Trapdoor Snail- Ultra Rare
4) Red-Crowned Crane- Ultra Rare
5) Spider Crab- Ultra Rare
6) Ibis- Rare
7) Koi Carp- Rare
8) Leopard Cat- Rare
9) Rhino Beetle- Uncommon
10) Tanuki- Uncommon
11) Mole- Common
12) Dewgong- Common
So, this is a list of all the pets that you can obtain in the upcoming Japan Egg update in Adopt Me. The Legendary and Ultra Rare pets have a very low percentage of being obtained so, keep your fingers crossed when hatching the egg. Well, this brings us to the end of this article. We hope that you found it helpful. Stay tuned to Android Gram, and happy gaming.