American Truck Simulator, as the name suggests, is a simulation game. Many consider it to be the benchmark of a good simulator because of its mechanics and integration with gaming wheels and other integrated controllers on PC. American Truck Simulator has been around for quite a few years, and the developers of the game have been supporting it with regular updates and additions. The main goal of a simulation-style game is to keep the feel of the activity in-game as realistic or close to realism as possible. This often means you have to do most of the grunt work as a truck driver, albeit sitting comfortably. This also means that, more often than not, you will be caught if you make a mistake.
That said, in the game, you may encounter several instances where your truck gets stuck indefinitely. This can happen if you take a risky maneuver or because of a bug. Since the game doesn't provide ample information on what to do in such situations, we are here to share all the details. So, consider reading this guide until the end to know how to get unstuck in American Truck Simulator.
American Truck Simulator (ATS): How to get Unstuck?
Before we address how to get unstuck, we need to look at the situations you could have gotten yourself stuck in. Many players get stuck when they tip over or run their trucks off the road. Other drivers sometimes end up on a road or place that is too narrow for their truck to go through. Alternatively, it could just be a bug or a glitch that flung you sideways. In most cases, you can get out of such situations just fine. Keep reading if you want to know how.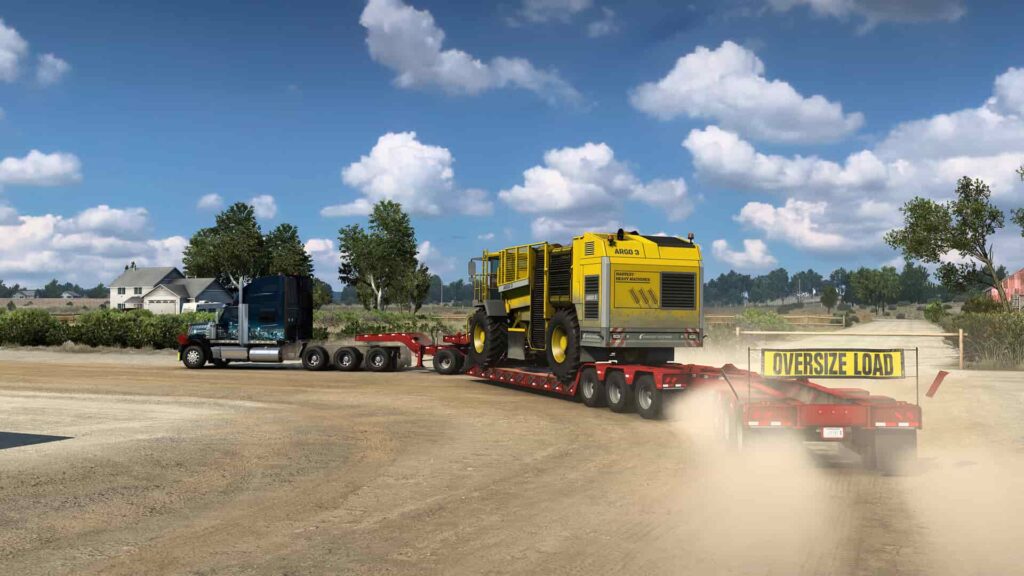 Most of these instances can be prevented by simply driving safely and paying more attention to the road. If you are someone who likes to speed around the road in a big rig, think about it. Trucks are notorious for tipping over if you push them too hard. They are powerful machines built to go from point A to point B without setting a land speed record. If you drove carefully and paid enough attention but still got stuck, don't worry, we understand. Luckily, there are a few ways to get unstuck in the game. That said, here are the methods you can use.
1). Reload a previous save
In case you are in a situation that causes your truck to get stuck, consider reloading a previous save. Do note that doing so will result in losing some progress.
2). Access the Route Advisor menu
Well, while stuck, press the F3 button until the Route Advisor menu shows up on your GPS. Now, click on the Telephone icon (F7) and call for emergency services to get you out. If you choose this method, you will be taken to the nearest service station after some in-game time passes. This is a viable and useful way to get your truck unstuck from an unusual situation in American Truck Simulator.
3) Remove mods
If somehow using a new mod caused your truck to stop moving and get stuck, consider removing it and then restarting the game.
4) Verify Game Files
Missing game files can also cause such issues. So, consider verifying the game files via Steam to get rid of this problem. To verify game files, go to your Steam library and right-click on American Truck Simulator. Now, select the Properties option, and then click on Local Files. After this, select the Verify Integrity of Game Files option. Once the scan is complete, launch the game and check if the issue persists.
5) Reinstall
If none of the methods worked, then consider reinstalling the game. A fresh installation can get rid of any temporary issue that might be causing your truck to get stuck and not move.
That said, if any of these methods helped you out, make sure to visit Android Gram for more such interesting guides.