Do you love fish? Or maybe you need them to tame another beast. Whatever the reason, the best way to get more fish in your inventory is to just start fishing. In Ark Survival Ascended, you have more than one way to fish. It's the land of dinosaurs, after all, so you can even use your tamed beasts to catch fish in addition to the traditional way. Anyway, this guide will help you understand how to fish using either method and where to expect a load of fish to catch in Ark Survival Ascended. So, consider reading until the end.
The creatures in Ark Survival Ascended are far more intelligent than their real-life counterparts. There are many commands accessible via their hud menu that you can enable to make your in-game journey a bit easier. For example, if you want to get an ample amount of fertilizer, just tame a Dung Beetle, access its hud menu, and enable the Automatic Feces Collection option. Now, it will automatically collect feces and convert them into fertilizer for you. Anyway, coming back to the topic, when it comes to fishing, you have two primary ways. More details on the same are shared below.
Ark Survival Ascended (ASA) Fishing Guide: How to fish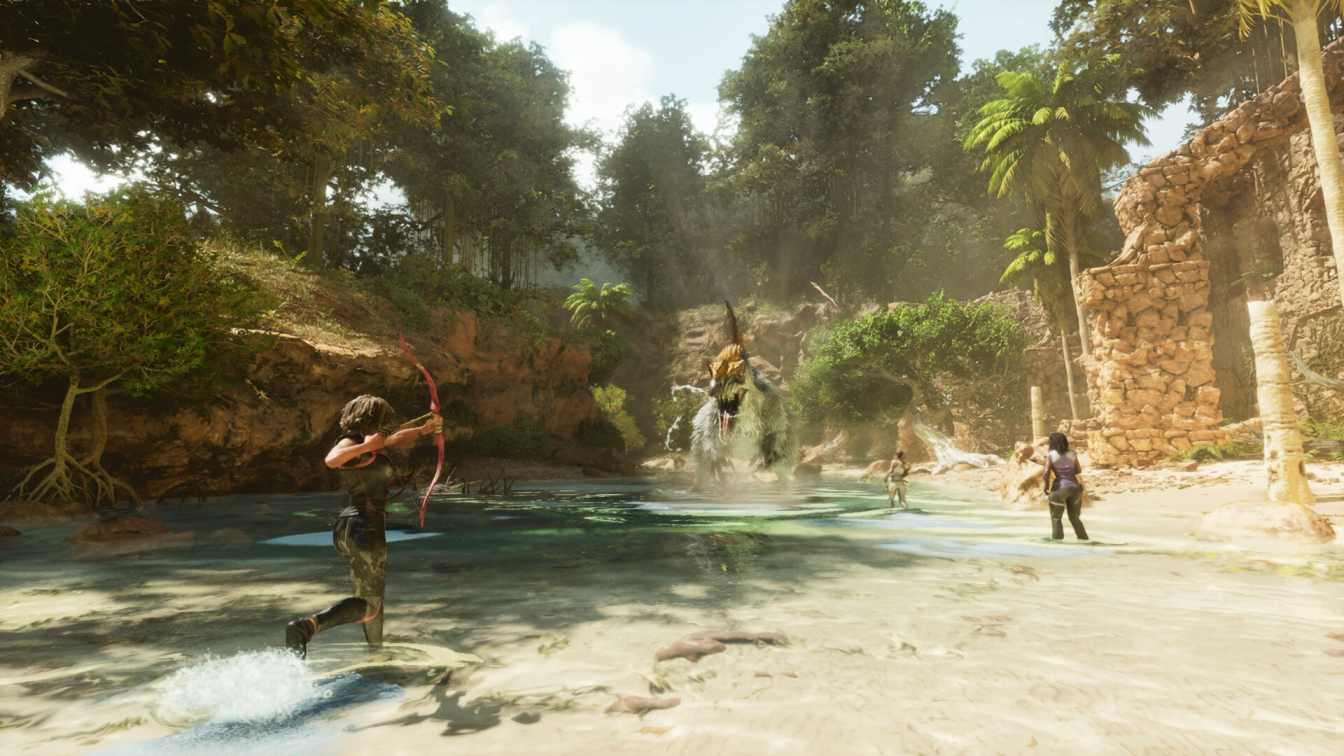 The traditional way
Let's start with the good old fishing rod. After your account reaches level 18, you will unlock the recipe for a fishing rod along with a wooden chair. Why a chair, you may ask? Well, you cannot fish in Ark Survival Ascended while standing. You need a wooden chair; otherwise, no fish for you. Here's the recipe for a fishing rod:
Wood x12
Thatch x20
Fiber x50
As for the wooden chair, this is what you will need:
Wood x30
Thatch x18
Fiber x14
After you have crafted both the fishing rod and the wooden chair, start heading towards any water body. Then you can just place the wooden chair on the shore of the lake and start fishing. As for bait, anything from leaches' blood to giant bee honey will work. Equip them from inventory in your fishing rod, and that's it.
Use a tamed beast
This is the most fun and exciting way to catch fish. Since Ark is the land of dinosaurs, why even bother trying to fish the usual way? Just tame a beast that eats fish for its diet, for example, Ichthyornis. The taming process is easy; just hit it with a tranquilizer and then feed basic kibbles. After it's tamed, open its HUD and enable Hunt and Retirive. Then on the target option, just mark fish, and that's it. Once enabled, all you need to do is give it some time to catch fish for you. Then, you can access its inventory to get fish.
The best fishing spots
Well, everything will be in vain if you have no idea where to fish. Don't worry, here are a few coordinates of the locations where you can find a steady supply of fish:
79.3, 36.1
70.4, 32.7
84.9, 19.2
56.7, 75.8
26.2, 29.2
These locations lead to either rivers or swamps, so make sure that you have firepower along with you to fight off some creatures. If you head over to the last coordinates, you will find yourself inside a frozen cave. There will be a waterfall inside that cave, which is a hotspot for fishing.
This was our guide on how to fish and also where you can expect to catch fish in larger numbers in Ark Survival Ascended. If you find this guide informative, make sure to follow Android Gram for more. Also read: Ark Survival Ascended (ASA) Brontosaurus Taming Guide: How to Tame & Get It