Ark: Survival Ascended (ASA) is Studio Wildcard's remaster of their flagship title, Ark: Survival Evolved (ASE). Since its official announcement and reveal, it has been hated by players in the community. The publishers of the game decided that the game would cost as much as a full AAA title. They also decided to discontinue the official Ark: Survival Evolved servers, upsetting players and the entire community. Despite this, some players have been hopeful about the upcoming title's release and have continued to look for more information about the game and its development.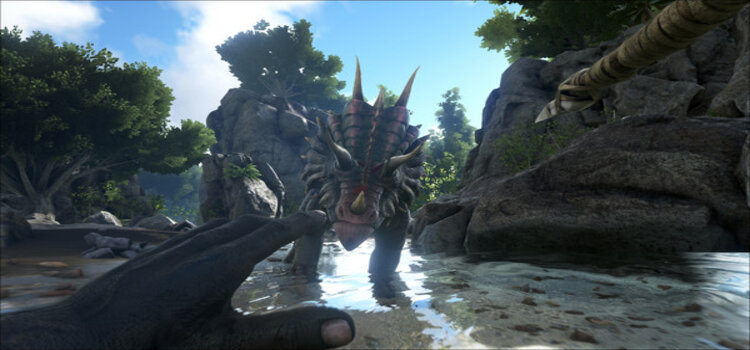 Studio Wildcard has been using Unreal Engine 5 for ASA. The game is supposed to look better, run better, and have an overall better appeal and texture than the current Ark: Survival Evolved. Originally scheduled for a release by mid-2023, the game is set to launch now at a later date with a thankful price cut.
Ark Survival Ascended Delayed, New Price, Release Date & More
ASA has been at the receiving end of much backlash since its announcement. However, the developers continue to believe in the core gameplay of Ark Survival Ascended and are working towards making it more immersive. In order to do this, they need time and effort.
Delayed launch, Release?
In a recent community update, the developers posted that the game would not launch as intended in mid-2023. Ark: Survival Ascended is now set to launch in October 2023. The developers shared their opinion that they needed more time and effort to make the game as polished as possible since they are having a tough time working with Unreal Engine 5.2. This makes sense since ASA, like ASE, is intended to be a cross-platform game that supports modding. The developers are encouraging cross-platform compatibility and mod support from the get-go. This makes it challenging to work on. Mod support necessitates instructions and support for modding on UE5, a feature the developers have to bake into the game.
Early Access game
Additionally, the game will not launch as an independent title. It will be released as an early-access title and will be in that phase until 2024. This will give developers the time needed to address major issues with the game and polish it further. Since the game is expected to be moddable and have cross-platform support, this might be a good idea on the part of the developers. Despite this, their intention to charge players a hefty sum for the game is confusing the community at large. What was originally planned as a free upgrade has now become a new game entirely.
Price Drop
Thankfully, we have some good news. The price of the game has been slashed. The initial charge of $49.99 is being reduced to $45. In addition to this, there is a $5 launch discount on the game, bringing the overall price down to $40. Well, since the players are reluctant to pay for a game they technically already own, the developers are listening to feedback and taking a step in the right direction.
We hope this article was helpful and gave you a good review of the changes in ASA and its development cycle. If you liked reading this and would like to read more such content, keep visiting Android Gram for regular updates.