Wondering what the best moveset for Alolan Exeggutor in Pokemon Go is? Well, you are reading the correct article for the answer! Niantic announced the sixth season – Season of Alola, right before the Season of Heritage was about to end. In fact, details about the newest season of Pokemon Go were first shared on Pokemon Day (February 27) via a special 'Pokemon Presents' event. During the 'Season of Alola', Pokemon Go players will get to catch various Pokemons of the Alolan origin, including the very quirky Alolan Exeggutor. The season began on March 1, 2022, and will continue until June 1, 2022.
In addition to the 'Season of Alola', the Interlude Season of Go Battle League also started on March 1, 2022, and will end on June 1, 2022. It is natural that players would be looking forward to using their newly-caught Pokemon to fight some intriguing battles! But is Alolan Exeggutor a good Battle League Pokemon? Keep reading to know.
More on Alolan Exeggutor
Before knowing more about the best moveset for Alolan Exeggutor, let's analyse its characteristics. Alolan Exeggutor is a dragon- and grass-type Pokemon from the Alolan region. There's also a Exeggutor from the Kanto region, which is a grass- and psychic- type. Both forms of Exeggutor are available in Pokemon Go, with the Alolan form being added very recently. You can either catch them in their true form or evolve a Exeggcute to get a Exeggutor. You can also catch shiny forms of these Pokemons. However, Alolan Exeggcutor may not be powerful enough for your Battle League matches. This is because the Pokemon doesn't feature much defense capabilities and may quickly prove to be weak against a wide variety of types. Alolan Exeggcutor is vulnerable to Ice-, Fairy-, Bug-, Flying-, Poison-, and Dragon-type moves.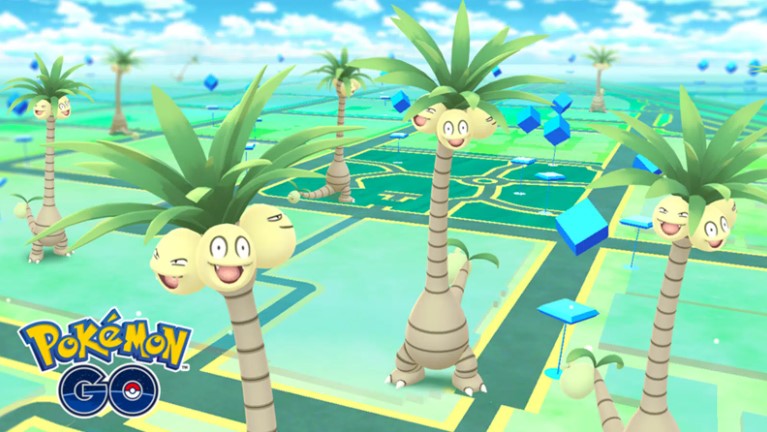 Best Moveset for Alolan Exeggutor
Players definitely refrain from using Alolan Exeggcutor in battles. But if you do choose to take the Alolan Pokemon with you, it's important that you know its best moveset. Exeggutor's Alolan form can learn six moves, with one of them being an event exclusive-
1) Bullet Seed (Grass-type)
2) Dragon Tail (Dragon-type)
3) Seed Bomb (Grass-type)
4) Solar Beam (Grass-type)
5) Draco Meteor (Dragon-type)
6) Dragon Pulse (Dragon-type)
Out of the above, the Draco Meteor is an exclusive move for Alolan Exeggutors which were evolved from Exeggcute during the 'An Egg-citing Spring Surprise' limited Research Day event. Without the Draco Meteor, the best moveset for Alolan Exeggutor is Dragon Tail and Solar Beam. And if your Alolan Exeggutor knows the exclusive move, a more viable and powerful moveset would be Dragon Tail, Seed Bomb, and Draco Meteor.