Today, we have an inarguably huge number of developers around us. Thanks to this great developer community whose support makes things possible. Custom ROMs have been popular among users ever since the concept of rooting came into being. In case you don't know, Custom ROMs are modified versions of OS for your smartphones that bring great features that are not available with the stock OS. It also offers the ability to tweak and customize your smartphone the way you want. Well, pretty much every Android smartphone these days has Custom ROMs available for them.
Colt OS v6.0 based on Android 10 is finally here:
We have a great number of Custom ROMs available currently with LineageOS, Resurrection Remix, Pixel Experience, HavocOS, and others as some of the most popular ones out there. Well, apart from these good old ROMs, we also have some new ROMs around us. One of them is the Colt OS. Colt OS is one of the best Custom ROMs out there. It offers a lot of features to its users. Furthermore, it comes with a minimal UI design and brings home beautiful animations alongside great icons as well.
Colt OS is perhaps one of those ROMs that offer the ability to tweak and customize pretty much everything. You can customize the VoLTE icons as well. You can some beautiful themes and can also customize the lock screen grid size. Apart from that you also get features like LongShot, QS Footer and an Advanced power menu as well Sounds interesting, huh!! Well, now we have the latest iteration of ColtOS v6.0 officially available. It comes with Android 10 and all its amazing features. The latest version comes brings along some pretty major changes, Below is the changelog with all the changes.
Colt OS v6.0 Changelog:

Version Bumped to 6.0
Welcome OTA
Merge tag 'android-10.0.0_r35
New Default Wallpaper
Added More Header Images
Made Header Image Height Customisable
Battery Light Customisation
Redesign Volume Panel
Redesign BatteryMeterView
Add Sync QS Tile
Wire Up Default Fonts With Font Engine
Update Lawnchair
Theme Fingerprint Animations With The Right Colours
Fix Crash On Devices Without FP
You can check out the official Github page for more information and download the latest builds. Use the link below to visit the official Colt OS Github repos.
Colt OS Features:
While the latest version itself comes with a lot of features and changes from the previous versions, there are a still lot of features that come in handy at times. Well, the list of all the features is pretty huge to be true. You get some really cool features like Accent Picker, Gaming Mode, FP Gestures, and a lot more. Here is the official list of all the features that you get to see with Colt OS. Take a look at these features given below:
Category
List of Features
General UI

Android 10.0
Security Update: 05 May 2020, r35
New ColtOS Wallpapers App
New Boot animations
Redesigned Volume Bar
Brandify Setting Dashboard

Display

Adaptive brightness
Ambient display
display settings: font size in 5% steps from 80% to 130%
Color Themes
Fonts Manager
Tap to Wake

Settings

Reset battery stats
Camera Sound toggle
Screenshot sound toggle
Quick Unlock
Grid Pattern n Size
Scramble Pin Layout
Per-app cellular/WiFi/VPN Restrictions
Internal Audio Recording
Redesigned Battery Meter View
Over The Air Updates

Status bar

Revamped Network Traffic
Battery Customizations
Brightness Control
Double-tap to sleep
4G / LTE / ADB Notification icon toggle
Custom VoLTE Icons
Status Bar Items Toggle
Kill App Button
Custom Carrier Label

Battery Styles

Battery Bar
QS Battery Style
Aggressive Battery

Quick settings

Quick Pull Down
QS Opacity
Brightness Slider & Position
QS Footer, Header Image and Header Size Customizations
Blur Behind Quick Settings
Smart Pull Down
Lots of QS Tile Styles
QS tiles view customization (Number of small QS tiles, rows and columns)
Row & Column Customization embedded into qs 3dot menu
Vibrate QS tiles on touch & QS footer warning toggle
Data Usage in QS

QS Tiles

Sound QS tile
PiP QS tile
Sync QS tile
Volume panel QS tile
FPS QS tile
NFC QS tile
Reboot/Recovery QS tile
Add/Remove tiles with one-touch

Recent apps

Omni Switch
Clear all FAB

Volume Button Settings

Volume Rocker Settings
Rest all the normal buttons setting like touch/action and all

Navigation bar

Android 10 Gestures
Navbar on/off
Navbar Customization
Option To Hide Pill

Notifications

Heads Up
Battery Charging Light
Incall Vibration Option

Lock screen

Lockscreen Charging info
Double-tap to sleep
Weather
Lockscreen Shortcuts
FingerPrint Options Toggle

Power menu

Power Menu Optional Toggles
Advanced Power Menu
Power Menu Scroll

Animations & Gestures

Screen Off Animations (like crt, fade, etc..)
Charging Animation
FP Gestures
Screenshot Types

Miscellaneous

Gaming Mode
Sensor Block Per-Package
Wakelock & Alarm Blocker
Legacy App Scaling

Colt Decorator

Colt Themes to start with
Accent Picker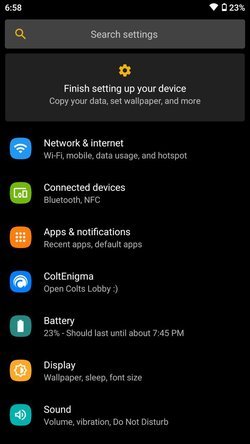 Well, you might be thinking if there's any other ROM that offers such features. We don't know about that but Colt OS is just fabulous. It offers tons of features along with the ability to tweak every aspect of your smartphone the way you want. That's pretty cool, Isn't it?
Well then, what are you waiting for? Go get your hands on this amazing Custom ROM. Now, you can also flash the latest Colt OS v6.0 based on Android 10 and enjoy all the coolest features. In case you want to learn more about the features and more about Colt OS, you can visit the official Github page. You can also download the OS builds from the official Github page as well.
Stay tuned for further updates on Colt OS v6.0 and more such related content. Also, share this article with all those people who have been waiting for the Android 10 based Colt OS.