So, you have completed a number of raids and are injured. You get an "Items moving" error while moving the raids to your stash. You die and go to the healing screen. Then, you try to heal yourself; you pay the Rublos for that. You heal yourself completely, and then open your inventory to find that the Rublos you paid is still there and you haven't been healed yet. Familiar? Here's error 228 for you.
Escape From Tarkov has a list of bugs and errors that keep popping up and irritate users. If you are getting a checksum error too, that's an even bigger bug and you can visit this page to learn more about it. To learn about potential fixes for error 228, keep reading this article.
Escape From Tarkov: Error 228
The error 228 is synonymous to "Items moving" error, and shows up when you try to move your raids as a scavenger, to your stash. Several players of Escape From Tarkov are going through this, and try to find a solution. You complete a raid with so much effort, and then don't get to store it. It's heartbreaking. Some users are facing issues with healing along with this error. Healing requires you to use medicines and Rublos. The error 228 might be a issue with internal data processes like the Backend error in Flea Market.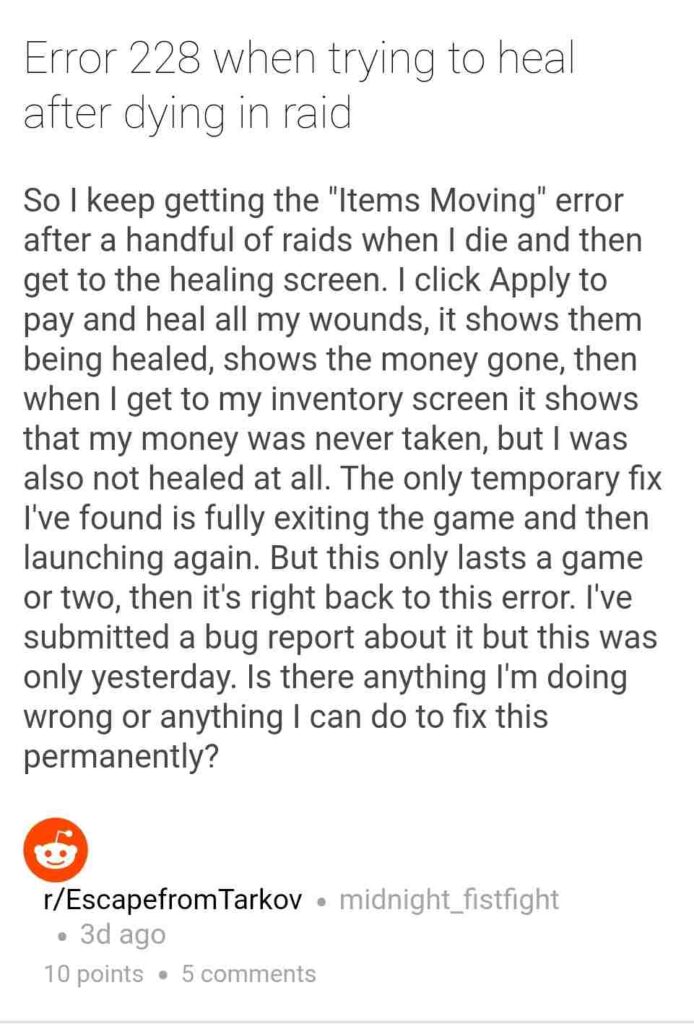 There are a few possible fixes for this issue. However, the fixes are limited; not everyone is able to solve the issue with these fixes. The best way to tackle this right now is to report the bug through the game launcher. Anyhow, we are listing the possible fixes.
Fixes
Trying running the game as an administrator: Right click on the Battlestate Games Launcher icon and click on Run as Administrator.
Check the game files: Open Battlestate Games Launcher. Now click on your in-game name located in the upper-right corner. Select the Integrity check option and wait it to complete. Repair any files which indicates having a problem. Run Escape from Tarkov again.
Try moving your raids one by one: When your raid is over, try moving the items one by one to one slot at a time. According to a few users, not all the slots in the inventory are bugged. So, you can keep moving until you get an error. The solution is trial & error, until you find the slots which are bugged.
All the fixes listed above are just possible fixes. So, if you aren't able to solve the error with these, we urge you to submit a support ticket from here and also report the bug through your game launcher. The developers will come up with a fix soon!