Facebook was founded by Mark Zuckerberg and the product as well as a founder are massively popular. Mark Zuckerberg is famous for his struggles and how he started everything off a scratch. Facebook is one of the oldest social media platforms. Currently, WhatsApp and Instagram are also owned by Facebook. It is surprising how Facebook was initially restricted to only a certain group of people (Students of Harvard) because this platform went out to be among the most used sites/ apps. Its been a while since Facebook has made much of its way to the headlines. The use rate of "FB" is on a decline and the officials are working on making Facebook fit the fast-changing world.
With the app being constantly upgraded and mage user friendly, the officials have finally brought the most important development. Facebook comes up with the "Manage Activity" feature and therefore here we are with all that you need to know this new feature.
Facebook introduces "Manage Activity"
One thing that led most users to inactivity is the chaotic feed system and hard-to-manage personal feed. Once posted, you have no clue where the post is surfing around and which timeline it belongs to! But Facebook finally brings a better personally feed and management center called the Manage Activity. Seems like Facebook will once again become a very safe and secure, user-friendly social media platform where you can manage your privacy, past, and account showcase within clicks.
Archive
This feature is taken into consideration by most of the social media sites/ apps. Facebook finally brings the Archive feature under the Manage Activity section update. With the help of this feature, users can now hide their posts and keep them away from anybody else but you. The users themselves will still be able to view the post when they want.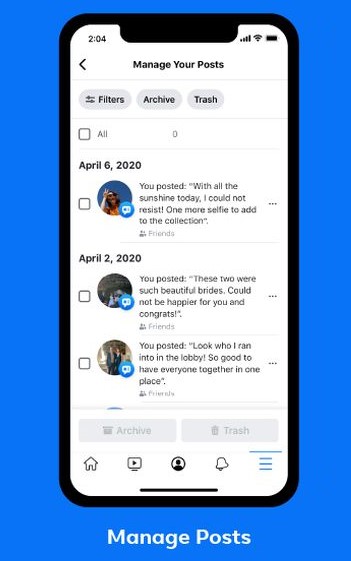 So, if you wonder how to remove a post from public sight yet cherish the times you posted and reaction you received, go ahead and Archive the posts.
Move to Trash
You can now move a post to "Trash". When you do so, you have 30 days' time to restore them or permanently delete them. Do note that if the post is not restored in 30 days, Facebook automatically deletes the post permanently. If you are sure about not wanting the post to be online anymore, you can manually delete the post permanently too, from the Trash itself.
Manage Posts in Bulk
The Activity Feed has never really been the perfect way to view and manage posts easily. Not just that, the activities of friends and friends of friends always load the platform and make it stressful. But you can now view and manage activities and posts in bulk with the help of Manage Activity.
Filter
Finally, users will be able to filter the feed and search. This will drastically reduce the pain of looking up and search for the right kind of content one is surfing for/ about.
Manage Activity feature availability on Facebook-
Manage Activity is officially available on Facebook Lite and all mobile platforms from June 2, 2020. The official site will receive the update soon, probably within this week.
Rest assured, we post related content and updates every day, so stay tuned! Also, share this article with all those who might find this news helpful!