Verifying game files is one of the most basic troubleshooting tips you will hear for any bug. And, performing it actually helps. Be it any launcher, there will be ways in which you can verify files. The popular troubleshooting step compares the game files in your system with the files of the game's latest version, hence, the term integrity is used. Missing files can cause bugs to pop up and hamper your experience. So, we are here with a guide to help you verify files on various popular platforms. Keep reading to know more.
Verify game files on Origin, Epic Games, Battle.net, UPlay & Steam
Different launchers or platforms support an almost similar way to verify files. However, the user interface can be confusing. Some platforms use different words to describe verifying game files. Here's a complete guide to doing so on Origin, Epic Games, Battle.net, UPlay, and Steam.
Origin
To verify game files in Origin, all you have to do is open Origin, click on My Game Library, and right-click on the game you want to verify files of. Click on the Repair option in the drop-down menu. That's it. Origin will take some time to verify the files of the game, and it will show the progress bar of the same as well.
Epic Games
If you use Epic Games launcher and store to play your games, here's how you can verify your game files on the platform. Open Epic Games store, then click on Library to open the list of games you own. Click on the three dots next to the game and click on Verify. Note that, Epic will not download any new files during the verification unless it locates a missing file. Wait for Epic to complete the verification, and you will be good to go!
Battle.net
If you are a fan of the Call of Duty franchise, you will need to know how to verify files on Battle.net. Open the Battle.net client and look for the game to want to verify files of. Click on it and then, click on the Options drop-down menu. Select the Scan and Repair option. Wait till Battle.net completes the process!
UPlay
If you use UPlay, verifying files on the same is easy. Open UPlay and head over to the Games tab. Find the game you want to verify, click on the drop-down icon next to it, and select Verify files option.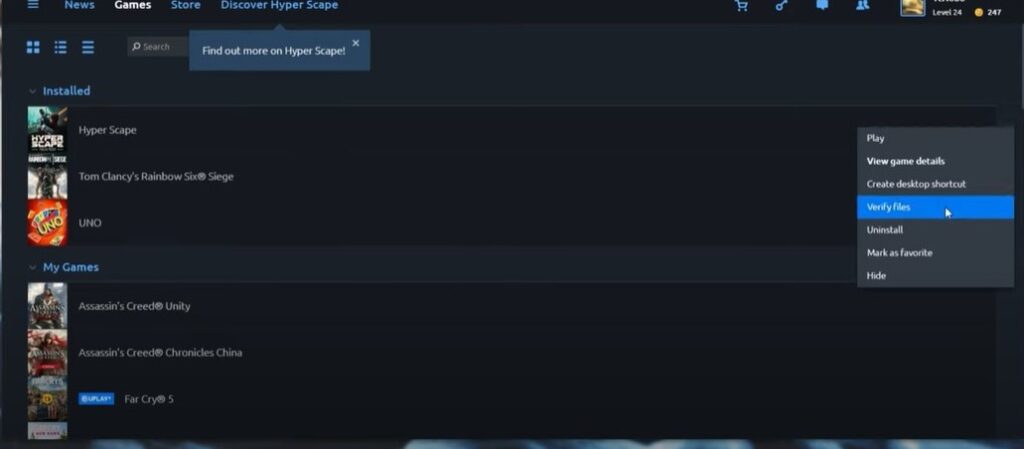 Steam
Steam is considered the world's most used platform to buy and manage video games on PC. Here's how you can verify the integrity of files on Steam. Just open Steam, head over to the Game Library, and look for the game. Right-click on the game, and select Properties from the menu. Click on the Local files tab and then on Verify integrity of game files… option. That's all you have to do for Steam!
We hope this guide helped you verify game files on your respective platforms. For more such useful guides, stay tuned to Androidgram.