Error codes often occur in multiplayer games and encountering them isn't always your fault. In this article, we are going to be sharing with you all the details of the Minecraft PE Error Code Creeper and discuss how to fix it. Here's everything you need to know.
Minecraft PE: Error Code Creeper
Well, Minecraft PE is reported to be throwing a new Error Code Creeper when players try to sign in to Minecraft PE. This error code is essentially a "cannot log in to your Microsoft account error" which doesn't let players sign in to their account in Minecraft PE and therefore restricting them from enjoying the game.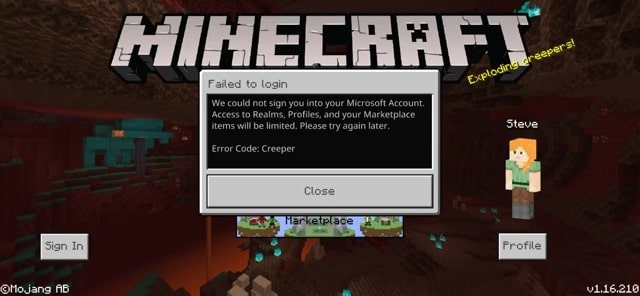 Many players have been facing this issue so we are here to provide you with a solution.
Minecraft PE: Error Code Creeper Fixed
So, to fix the error code Creeper in the Minecraft PE, all you need to do is follow the given steps:
Note: Make sure that the Minecraft PE application on your phone is up-to-date. Visit the Playstore and check if there is a new version available.
First, download the Xbox app on your phone. Well, most of the Minecraft PE players will have the app already installed on their phones. However, if you don't, download it from the Playstore. And for players who have the app installed already, make sure to update it to the latest version.
Now, open the Xbox application and sign in with your Microsoft/Xbox account credentials.
Once this is done, close the Xbox application and also Minecraft PE and remove them from running in the background. It basically restarts the game.
Open Minecraft PE and now try to sign in.
Now, the error code will not appear. We hope this guide has been helpful to you and you were able to fix the Error Code Creeper without any further problems. Enjoy!