Pokemon Unite being a multiplayer battle arena game features a total of 4 maps to battle on. In this article, we will be discussing the Mer Stadium Map in Pokemon Unite. Here's everything you need to know.
Pokemon Unite
Only a month is left before Pokemon Unite is released on Nintendo. However, the Android and iOS versions are going to be made available in September only. Recently, the official PokemonUnite Twitter handle revealed a total of 4 maps so far that are going to be featured in the game. Well, here we will discuss the Mer Stadium Map featured in Pokemon Unite only.
Pokemon Unite: Mer Stadium Map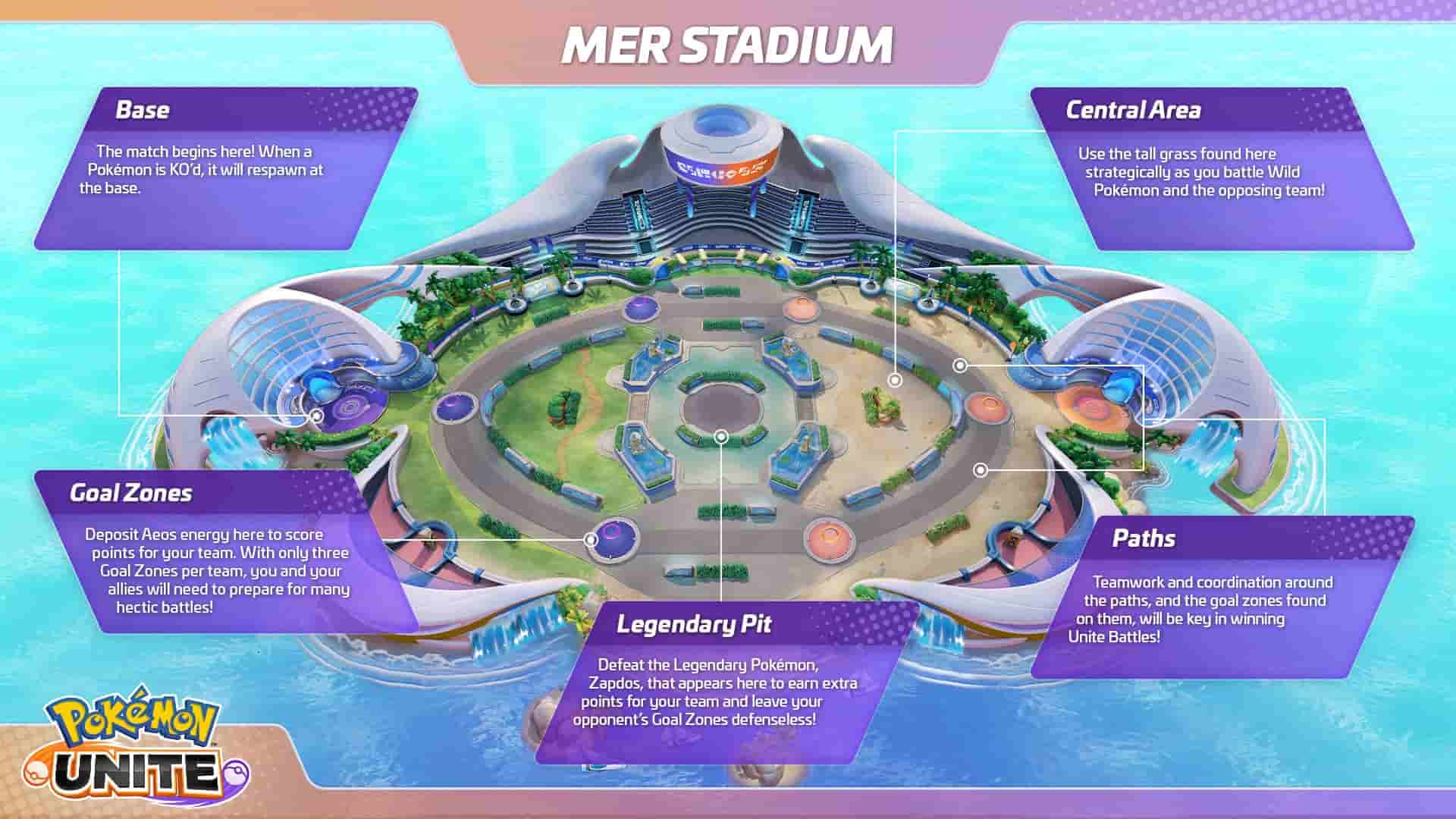 Mer Stadium is a map in Pokemon Unite that features 4v4 trainer battles. It has got a Base, Goal Zones, a Legendary Pit, Paths, and a Central Area. So, if you don't know about all the sections featured on the map, then don't worry as we have got your back here too.
What is a Base?
A base is an area from where your match will start. Your pokemon will be respawned there after getting KO'd.
What are Goal Zones?
Goal Zones are areas where you deposit your Aeos energy to score points for your team. You can take over the opponent's goals once you have adequate points. A total of 3 goal zones for each team is featured on the map.
What is a Legendary Pit?
A Legendary Pit features a legendary pokemon to defeat and earn extra points. Once you've defeated the legendary pokemon, you gain extra exp points and your opponents' goals remain defenseless. In this map, the legendary pokemon Zapdos is featured in the Legendary Pit.
What is a Central Area?
The Central Area of Mer Stadium features tall grass that can be used strategically to fight the Wild pokemon and your opponents. Different maps feature different wild pokemon in the Central Area.
Paths
Mer Stadium also features paths where teamwork and coordination can help win battles easily. This map has a limited amount of goal zones, so strategy-based plays are highly efficient here.
To know more about all the maps featured in Pokemon Unite, visit here.