Wondering how to run in Ready or Not? Well, you will need to do so at some point in time. You just can't adjust to slow movement all the time. Well, let's set things straight in the beginning- there's no specific button to "run" in the game. There's just a workaround that will let you move faster, and you can just choose to make do with it. On the other hand, players report that the jump function is pretty useless, as you can just walk around the obstacles. Guess we need to send them a lot of feedback – ready or not?
Since Ready or Not was released as early access in December 2021, it has received some notable updates. The content updates added in a host of, well, new content like modes, maps, guns, and mechanic improvements. On the other hand, VOID Interactive also addressed a number of bug concerns via patches. It's still a long way to go until the official release, which may happen at the end of this year or early 2023. We certainly expect a lot from what seems to be a close remake of the hit 2004 game, SWAT 4. The topic of sprinting doesn't call for the developers' attention; it's not a bug or a major cause of dismay. But something definitely seems inadequate to the fans. Not being able to sprint in a shooter game? That doesn't sound right! Steam's Community Hub for Ready or Not features a lot of questions regarding how to sprint or run in the game. So, in this article, we will be elaborating on the same.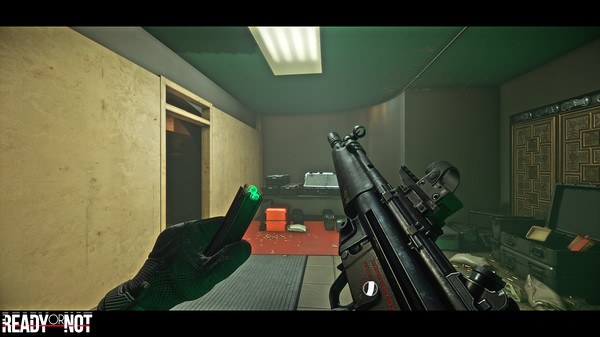 How to run in Ready or Not?
No shooter game is complete without free movement capabilities. The absence of a sprint functionality in Ready or Not has disappointed many fans. But that doesn't mean you cannot run in the game. All you have to do is lower your weapon- that is enough to boost your movement speed to the level of running. Wondering how to do so? Keep reading to know. 
So, there's an option to lower your weapon for times when you can stand at ease. The ready-to-fire state will slow down your movement. Instead, toggle the key for "Low-Ready". Lowering your weapon will let you move around faster and make do for the obvious absence of sprinting abilities. You can find the default key for Low-Ready from the key bindings list in your in-game settings. We suggest switching to a key that is more comfortable to know. Not many are fans of the default key bindings of Ready or Not. For more articles on Ready or Not, stay tuned to Androidgram!