Roku is known for popularizing the concept of set-top boxes when the entire world was shifting to over-the-top content consumption. It is an American manufacturer creating televisions, streaming players, and accessories for consumers of many countries.
Roku TV features
The best part about Roku is it allows you to access your cable box, satellite, HDTV cable, or your favorite streaming services from one screen. It is that simple. Roku also provides simple, easy-to-understand remote and automatic software updates for the most user-friendly experience. The Roku channel allows you to access 150000+ movies and TV episodes across free and paid channels. Sync with Roku mobile app, and now you will be able to voice search your favorite content. The free mobile app allows you to host a watch party with up to 3 friends, cast your phone screen to the TV, and enable private listening. Roku TVs come with AirPlay for easy screen mirroring from your Apple devices. Roku TVs also have a game mode to optimize your games if you decide to use it as a gaming screen. All the features make Roku TVs a hit among consumers.
What is a game mode?
The game mode helps Roku TV helps prevent latency and input lag by slightly reducing the TV picture quality. The reduced picture quality is not going to be significant when you get to play games seamlessly. You don't have to keep it on the entire time; switch it on when you play games and experience a better gaming session.
Roku TV 10.0 update may have distorted its game mode
A user posted on the Roku online community page that the TV's game mode is creating problems when switched on. After the update, the picture on the screen stutters every 5-10 seconds whenever the game mode is switched on. This doesn't happen when the game mode is off. However, the user added that video games are unplayable on the TV because of the stuttering. There have been several replies to this post. Most responses agree with the post; hence, other users are also facing the same issue.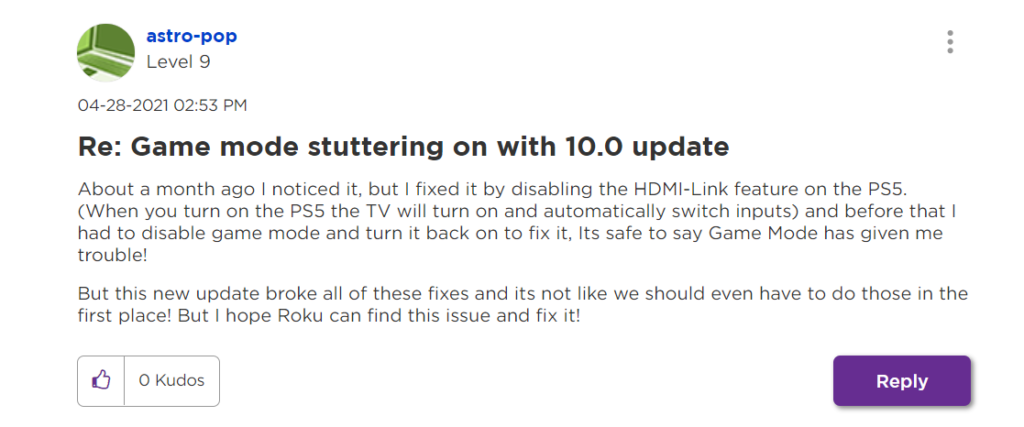 However, there's no official fix as yet. The company representative noted the problems.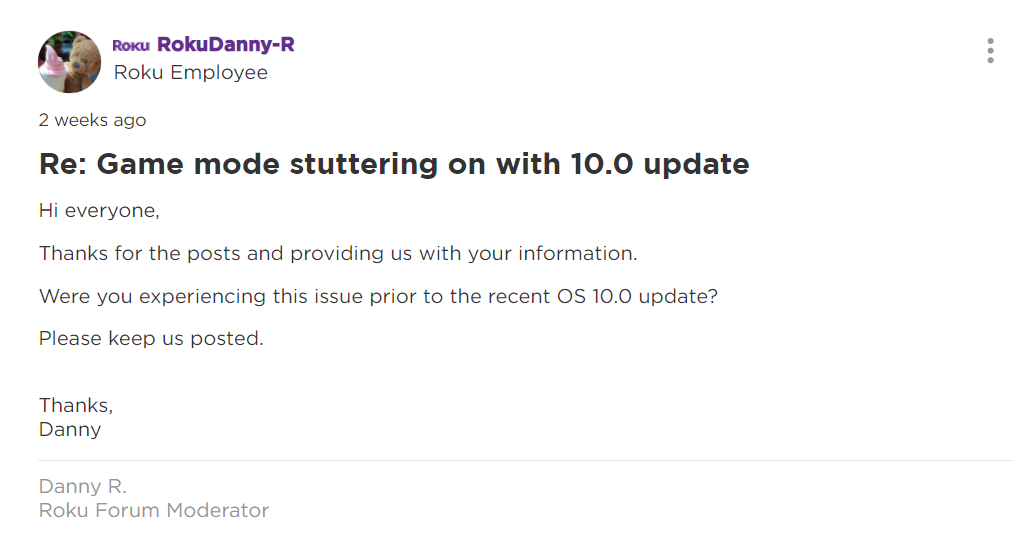 We assure users that a fix will be out soon as Roku is already investigating the issue. Users don't need to despair.
We urge the Roku TV users to have patience as a fix is on the way.