Is Steam not discovering your existing game files? This is a very common problem that a lot of Steam users face. The app does not show the games that you already have on your system. This can get very annoying when you're trying to play a game or simply check your achievements in the store.
The Steam Library is a great place to manage all your games in one place. But sometimes, the app may display a 'buggy' behavior and refuse to recognize your games. In this article, we will help you to resolve the Steam not discovering existing files/games issue.
Steam was developed and released by Valve as an online store to download and update games created by Valve themselves. But soon after, Steam was modified to make it a digital distribution platform for PC video games. In 2022, both users and developers prefer Steam for PC games over any other platform. Users can browse, purchase and play games using the Steam app. The app also helps you to manage all your games with its Library. It also offers a large community that is always ready to help other users. But, Steam is unfortunately not immune to bugs. If you too are struggling with Steam not being able to discover existing game files, continue reading the article for the fix.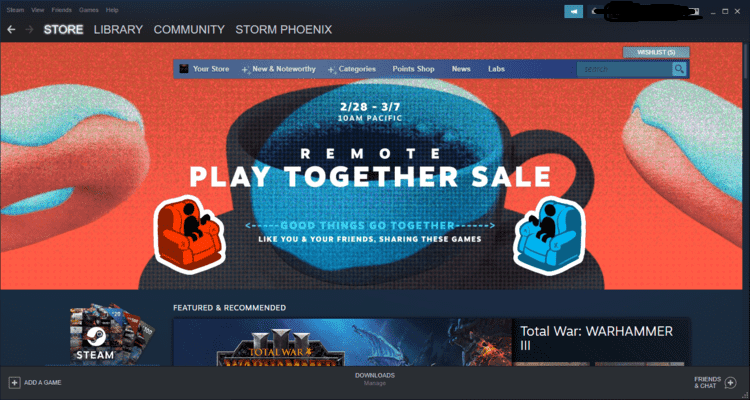 Steam not discovering existing files: Fixes & Workarounds.
As we stated before, it is a fairly common issue with Steam. The app sometimes does not discover the existing games on your device. You can begin with restarting your Steam application as well as your PC. This sometimes helps resolve the issue. Next, you can try these troubleshooting methods if the issue persists.
Change the Steam Library Folders-
1) Create a new folder in another drive on your PC.
2) Now, go to Steam> Settings> Download and then click on the Steam Library Folders option.
3) Next, click on the + sign and then click the Add Library Option.
4) Highlight the folder you created in the first step and then click on Select.
5) Now, open your Windows Explorer and go to \Steam\steamapps\common folder and locate the game that is not showing up on the app.
6) Move this folder to the \steamapps\common in the new drive.
7) Now, try to install the game and select the new folder for installation. This will create a fresh appmanifest_######.acf file and the app will recognize the already existing files.
Uninstall and re-download the game-
1) This is a tedious process as it requires you to download the whole game once again.
2) Launch Steam> Library.
3) Next, right-click on the game you want to uninstall and click the Manage option. Now, click on uninstall.
4) Next, restart Steam and go to the Library option.
5) Here, click on the Install option on your game and the installation will begin.
Verify the integrity of the game files-
1) Launch Steam and go to Library.
2) Right-click on the game and select Properties.
3) Now, go to the Local Files> Verify Integrity of game files.
4) This will force Steam to recognize the existing files on your system.
Also, make sure that your drive has enough free space. Sometimes, this issue occurs due to insufficient storage space on your device. In the end, we hope that you found this article helpful. You can also check our article on Steam friends list not showing issues for the fixes and workarounds. Stay tuned to Android Gram for more such guides. Happy Gaming!