As you keep exploring and progressing through Zelda: Tears of the Kingdom, you will soon acquire a plethora of melee weapons, bows, and shields. But you obviously can't pick them all up because of the limited inventory capacity for each weapon type. Wouldn't it be nice if you could increase the inventory slots so that you don't have to leave a weapon behind? Well, you are in luck. Hestu is a character who can increase your inventory slots in the game. In this article, we will guide you on where to find Hestu and how to increase your inventory slots in Zelda: ToTK.
Making his first appearance in Zelda: Breath of the Wild, Hestu is a tree fairy who can increase your inventory slots to store more swords, bows, and shields. It looks like he's back in ToTK with a similar role. But finding Hestu is not everything. You also need multiple Korok seeds, which are usually dropped by Koroks. Well, you might have come across multiple Koroks when you accidentally lifted a rock and found them hiding under it. Or maybe you found one by examining a sparkling leaf trail. After you've acquired at least one Korok Seed, now you have to look for Hestu. Keep reading to learn where to find him. Don't worry, as you don't have to travel too far.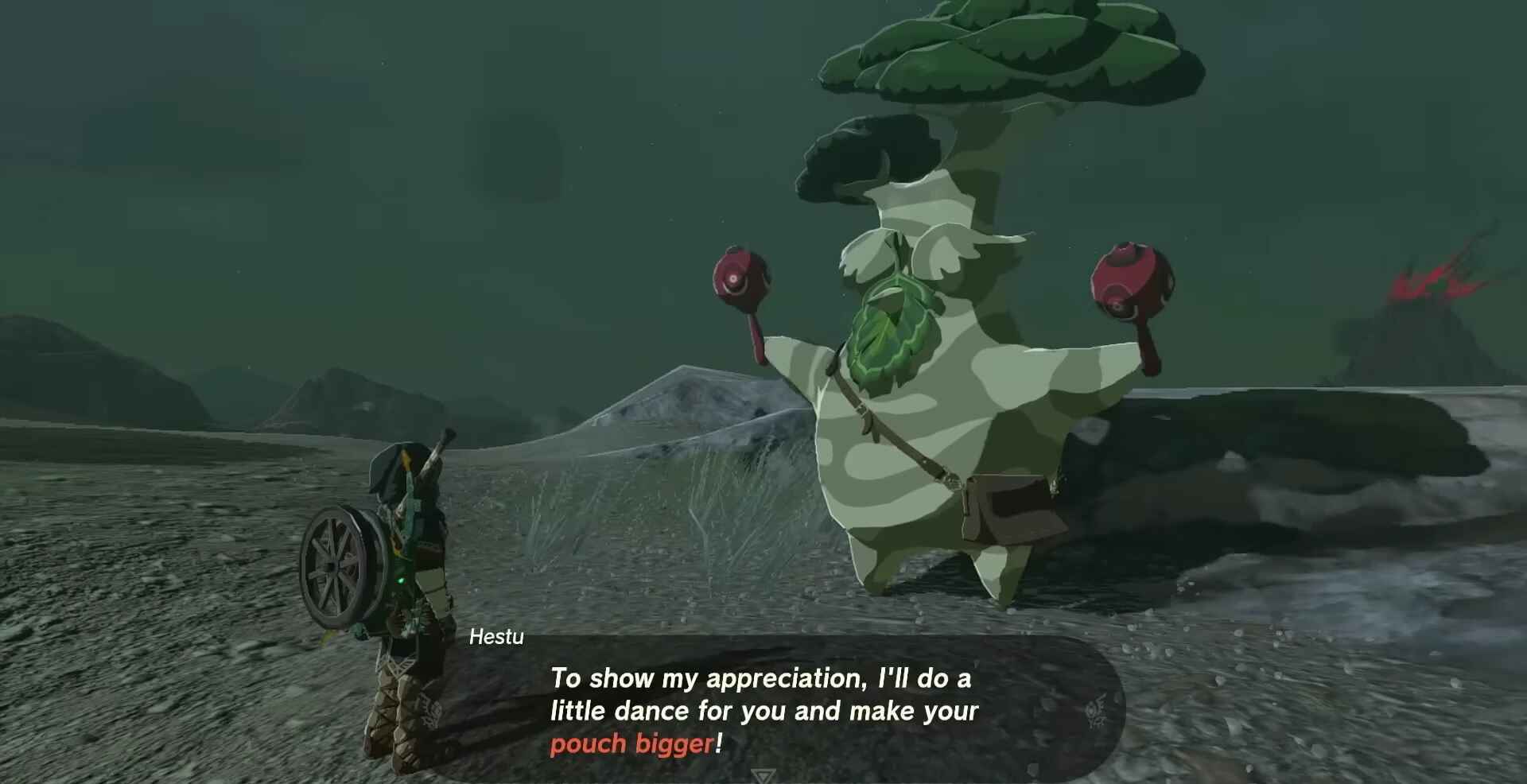 Zelda Tears of the Kingdom (ToTK) Hestu: How to get and find
Before we move on, we would like to inform you that Hestu doesn't have a fixed location. His location keeps changing throughout your journey, so you need to check all the places where the NPC usually spawns.
First Location of Hestu – Lindor's Brow
Start from Lookout Landing, located in Central Hyrule (-0254, 0102, 0018), and head northwest. If you follow the road and cross the Carok Bridge, you will arrive at the New Serenne Stable (-1361, 0724, 0087). From the stable, start traveling towards Lindor's Brow Skyview Tower. Eventually, you should come across Hestu being troubled by a couple of angry living trees. Kill the trees and talk to Hestu.
Now, you can trade Korok Seeds for inventory slots for your weapons. Choose the appropriate weapon type for which you want to expand your inventory. Just like BoTW, you can trade with him a few times before he decides to change his location. While you're here, read this article if you'd like to know where to find the Sword of the Hero in Zelda: ToTK.
Second Location of Hestu – Lookout Landing
Finding Hestu the second time is not a big deal. He will travel east to Lookout Landing, the place from where you initially started. In Lookout Landing, Hestu will be standing by a tree past the merchant's stall near the entry gate of the settlement. As before, talk to him and exchange as many Korok Seeds as you want for weapon slots. Just remember that each time you upgrade a slot type, the required number of Korok seeds will increase the next time you upgrade the same slot type. This will keep rising, so think about what you want before upgrading.
Third Location of Hestu – Korok Forest
Hestu will stay at Lookout Landing for quite some time. However, as you keep progressing through the main quests or discover the Korok Forest, Hestu will finally shift from Lookout Landing to the Korok Forest. The Korok Forest is located in the Lost Woods of the Great Hyrule Forest, located north of Lookout Landing. The coordinates to his location are (0412, 2124, 0143).
Now that you know where to find Hestu, you can finally get additional weapon slots for your sword, bow, and shield in Zelda: ToTK. If you enjoyed reading this article, consider following Android Gram for such content in the future.