Looking for name ideas to name your Black Mummy Cat in Adopt Me? First of all, congratulations on owning a Halloween pet! However, the Black Mummy Cat is a common catch – there's a 70% chance of obtaining a Black Mummy Cat from the Halloween Mummy Cat Box. We have curated a perfect list of names for your Black Mummy Cat in Adopt Me. Read this article to access that list.
The Halloween Event 2021 has introduced seven new Halloween exclusive pets to Adopt Me. Out of the seven, three of them are cats – Halloween Black Mummy Cat, Halloween White Mummy Cat, and Halloween Gold Mummy Cat. If you are still hoping to own a Halloween Black Mummy Cat, you better try your luck now! The Halloween Event is scheduled to end on November 18, 2021, and you wouldn't be able to obtain a Black Mummy Cat after that, except via trading. You will need to participate in Halloween Event exclusive mini games to obtain Candy. Candy is a kind of Halloween exclusive in-game credit that you can exchange to get Mummy Cat Boxes. You will need 600 Candy to buy a Mummy Cat Box. As the name suggests, you can obtain either of the three Mummy Cats by opening the Mummy Cat Box.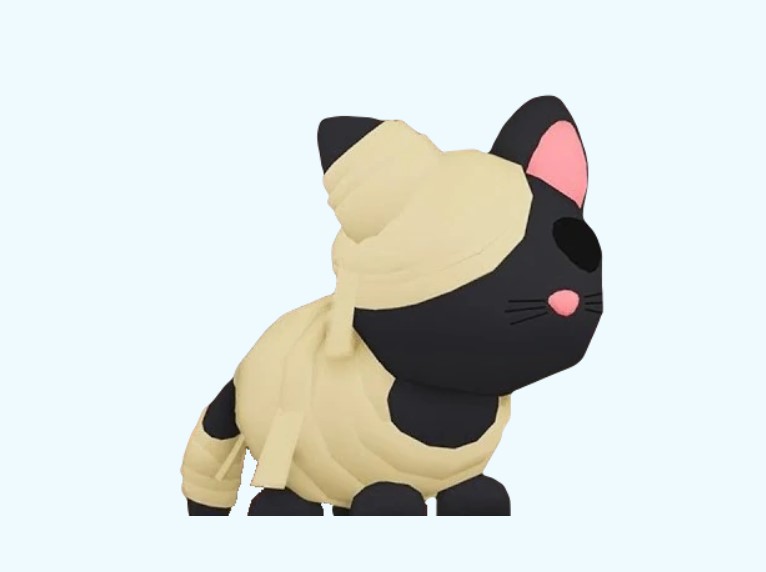 Adopt Me Black Mummy Cat name ideas list
The Black Mummy Cat happens to be the most common to pop out of the box. It looks like the common Cat pet of Adopt Me, but with beige bandages around its body, left eye, and tail. You will also find a pink nose on this black beauty. Black Mummy Cat's rarity is Uncommon, but after the Halloween Event 2021, you will only be able to obtain it via trading. The Black Mummy Cat also has a Neon and a Mega Neon appearance. However, you will need to own four full-grown Black Mummy Cats to make a Neon form. For the Mega Neon form, you will have to own four Neon Black Mummy Cats. Well, glowy pets in Adopt Me are definitely worth the effort!
Name Ideas for Black Mummy Cat
| | | |
| --- | --- | --- |
| Blackie Boo | Stella | Neon Black |
| BooBlack | Smokey | Venus |
| BooBoo | Loki | Magic |
| Black Kitty | Pepper | Panther |
| Bandage Queen | Black Bandit | Cleopatra |
| Bandage King | Pretty Black | Cinder |
| Katie | Juno | Raven |
| Darkie | Jupiter | Black Jones |
| Luna | Black Swan | Pluto Cat |
| Jack | Aurora | Eclipse |
Hope you found the perfect name for your Black Mummy Cat pet in Adopt Me! You can add special characters to the name to make it more fun. Check out this article for help. For more such name lists for Adopt Me pets, stay tuned to Androidgram!