Love pets? Have you tried adopting a virtual pet yet? Here's a video game that lets you do that. Adopt Me! is a massively popular game that lets you adopt cute little pets and name them. Now, we know some of you love special characters. There is a reason why they are called special. Naming your virtual pets can be enjoyable as it gives you the feeling of having a real pet walking by your side. Want to name your virtual pets in Adopt Me! with cool and different fonts? Well then, look no further as we are here to help you do just that. Keep reading to know how to use cool fonts to name your very own pet.
How to use unique fonts to name your pet in Adopt Me!?
Some of you may like simple names for your pets. And, some of you want unique names. Adopt Me's system allows you to name your pets in a normal, basic font only. However, if you want to add symbols and type names in unique fonts, that is one hundred percent possible. Keep reading to know-how.
If you are using the Roblox app on your phone, use the Fonts app
Download the Fonts app from App Store or Google Play Store. Make sure you download the one with the below logo.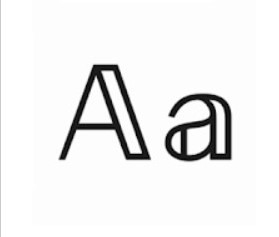 Accept the terms of the app, and then open Roblox app on your phone. Try changing the name of your pet now. You will see a new keyboard that lets you add symbols and different fonts. Choose what you like and then tap on Save. That's it. Your pet will now have a cool name.
Note: You can also try other apps for fonts, but Roblox may not support it. Roblox supports the above app.
If you are using Roblox from your browser, try these websites
NickFinder: This website has a vast collection of symbols and cute fonts for your adorable pets on Adopt Me! Check it out from here. You can copy pre-loaded cute names, or you can generate your own.
LingoJam: This is a very cool font generator. Just type your preferred name for your pet, and the website will generate your name with cool symbols and new fonts. Click here to visit the website.
Hope you have a good time naming your pets! Stay tuned for more updates on Adopt Me! and other video games.