Adopt Me's owl pet is one of the cutest pets you can own in the game. Congratulations on getting to own one. The owl was first made available in the game on November 22, 2019. At that time, the owl pet could be obtained by hatching farm eggs. Normally, a legendary pet has only a 3 per cent chance of hatching from a farm egg. Even if the owl is a legendary pet, there was only a 1.5 per cent chance of hatching a baby owl out of a farm egg. But, gone are those days.
Now, an owl pet can only be obtained through trading or by hatching any remaining farm eggs. You can obtain a farm egg through trading and try hatching an owl as well. But, now that you already own one, you must be thinking of naming your sweet owl. Don't worry, as we have got the perfect list of names for your cute pet.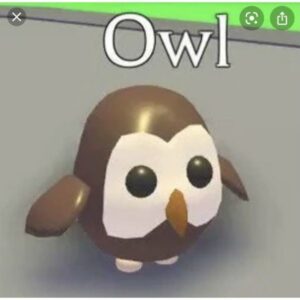 Adopt Me Owl pet: Appearance
The owl pet in Adopt Me looks like an owl in real life. It is dark brown in color and slightly round in shape. With two small brown wings, two pale yellow-colored feet, one brown break, and two large black eyes, the owl is a very pretty pet to own. It also has a pretty beige-colored face. If you have an adult owl, you won't be able to watch it grow from newborn to fully-grown stage. However, an adult owl will know many tricks like sit, dance, bounce, and many more.
Like most other pets, you can convert a normal owl into a neon owl and further into a mega neon owl. A neon owl's body glows with a peachy orange color. A mega neon owl's body glows in cycles of many colors – light purple, white, pink, red, orange, and yellow. We have curated the best names for your cute little own in Adopt Me. Check them out below.
Name list
| | | | |
| --- | --- | --- | --- |
| Travis | Ozzy | Agatha | Zippy |
| Bert | Owlinor | Screechie | Cliff |
| Red | Gray | Owliver | Frederick |
| Ozwald | Willie | White Stripe | Vincent |
| Rudy | Booboo | Hoodini | Roamie |
| Buddy | Zeus | Alice | Boo |
| Screech | Sinatra | Hedwig | Bob |
| Elvis | Blinky | Hootie | Marsh |
| Barney | McOwl | Spooky | Sparkles |
| Rutherford | Winnie | Pudge | Omega |
We hope you have found the perfect name for your pet owl by now. For more such suggestions, stay tuned to Androidgram.