Looking for an adorable name for your Squid Pet in Adopt Me? Being a legendary pet, a lot of fans were excited to get their hands on this cute sea animal. In real life, it's uncommon to keep a squid (not impossible!) as a pet. However, Adopt Me's team has now made it possible to care for a virtual squid, all of which is a part of an extremely fun pet-simulation game. If you have already got a Squid Pet, gosh, are you lucky! We have a curated list of Squid Pet Names waiting for you at the end. Scroll to the bottom right now! But, if you are wondering what a Squid Pet is, we have also jotted down all the information you need on a Squid in Adopt Me. Keep an eye on the next section!
What is a Squid and how to obtain it?
Did you know that there are over 300 forms of this intriguing creature? Squids, in real life, are found in oceanic as well as sea waters and are categorized as molluscs. Well, a squid is not your average sea animal, as it happens! In Adopt Me, the Squid is considered a Legendary Pet and is only obtainable in two ways. You can either opt to open RGB boxes for a chance to get one or communicate with a friend, who has a squid, for trading. Wondering what RGB Boxes are? Keep reading to know.
RGB Boxes were added to Adopt Me as a part of the Taskboard Update, in January 2022. The Task Update brought in a lot of new features, like Daily Tasks, Hot Tasks, RGB Items, and Seasonal Events. In simple words, completing tasks will get you rewards. You will also get to see a Taskboard on the left side of your screen, on which you will now get to see some updates in the form of tasks or reminders. The most exciting part of the Taskboard Update was the addition of two new pets – Chameleon and Squid – to the party. Like Squid, Chameleon is also a Legendary Pet in Adopt Me. Opening the RGB Boxes doesn't guarantee you an item, especially a Squid. There's only a 4.5% of obtaining a Legendary Pet through an RGB Box.
Also Read: Adopt Me Walrus, Summer Walrus & Golden Walrus name ideas list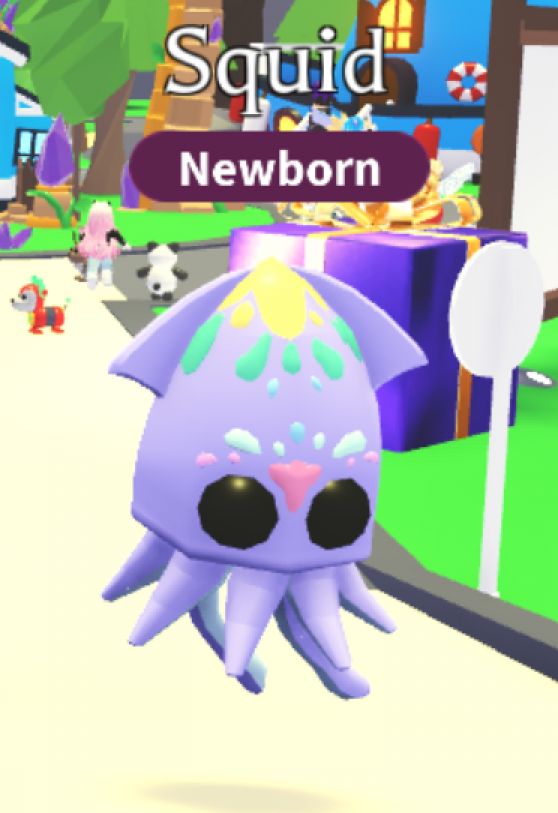 Adopt Me Squid Pet Name List
Find the list of name ideas for your Squid Pet in Adopt Me:
| | | |
| --- | --- | --- |
| Squidy | Squish | Sugar |
| Packer | Dorito | Squark |
| Han | Electra | Squaffles |
| Softy | Sephiroth | Squiggles |
| Jelly | Slimy | Solace |
| Scoop | Slither | Snow |
| Nelly | Ink | Squidnapper |
| Delta | Oceane | Dolly |
| Aqua  | Splish | Squidward |
| Shelly | Blotch | Squidyboi |
Hope you could pick out a name for your cute Squid in Adopt Me from the above list. For more pet name ideas, stay tuned to us!