Like traveling? How about traveling in a video game? Try American Truck Simulator. Experience the thrill of traveling across major locations in the United States. All you have to make sure is the customers should get their orders on time. If you are thinking, yes, this video game is based on the hugely popular Euro Truck Simulator. The locations and some of the features are different. American Truck Simulator is very popular among simulator lovers. The video game was made available to fans on February 2, 2016.
You can play the game on a PC if you have Windows, macOS, or Linux. It is an old game, but still very popular. Also, the developers have made sure fans do not get bored by adding many interesting DLCs from time to time. Yes, the game has a huge list of DLCs and we have listed every single one here with their prices and in order of their release dates. Keep reading this article to know more.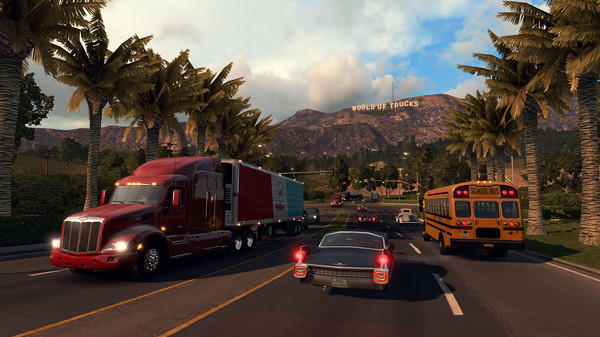 American Truck Simulator Expansion Packs & DLC List
As mentioned before, American Truck Simulator gets very regular DLCs to keep fans happy. Ranging from map expansions to truck design packs, these DLCs make American Truck Simulator all the more fun to play. According to the DLC list, two exciting map expansions are upcoming in the video game. Wyoming map expansion's release date and price are already announced. But, the Texas map expansion's details are yet to be announced.
Expansion Packs & DLC List
| | | |
| --- | --- | --- |
| DLC/EXPANSION PACK NAME | RELEASE DATE | PRICE |
| STEAMPUNK PAINT JOBS PACK | FEBRUARY 3, 2016 | NA (PACK DISCONTINUED) |
| NEVADA ( MAP EXPANSION) | FEBRUARY 3, 2016 | FREE |
| WHEEL TUNING PACK | APRIL 13, 2016 | $2.99 |
| ARIZONA (MAP EXPANSION) | JUNE 6, 2016 | FREE |
| STEERING CREATIONS PACK | SEPTEMBER 14, 2016 | $2.99 |
| HALLOWEEN PAINT JOBS PACK | OCTOBER 28, 2016 | $1.99 |
| CHRISTMAS PAINT JOBS PACK | DECEMBER 16, 2016 | $1.99 |
| DRAGON TRUCK DESIGN PACK | JANUARY 15, 2017 | $1.99 |
| VALENTINE'S PAINT JOBS PACK | FEBRUARY 10, 2017 | $1.99 |
| HEAVY CARGO PACK | JUNE 7, 2017 | $4.99 |
| NEW MEXICO (MAP EXPANSION) | NOVEMBER 9, 2017 | $11.99 |
| OREGON (MAP EXPANSION) | OCTOBER 4, 2018 | $11.99 |
| CLASSIC STRIPES PAINT JOBS PACK | OCTOBER 4, 2018 | $1.99 |
| SPECIAL TRANSPORT DLC | NOVEMBER 7, 2018 | $4.99 |
| FOREST MACHINERY | JUNE 11, 2019 | $4.99 |
| WASHINGTON (MAP EXPANSION) | JUNE 11, 2019 | $11.99 |
| SPACE PAINT JOBS PACK | JULY 15, 2019 | $1.99 |
| PINK RIBBON CHARITY PACK | OCTOBER 1, 2019 | $1.99 |
| UTAH (MAP EXPANSION) | NOVEMBER 7, 2019 | $11.99 |
| IDAHO (MAP EXPANSION) | JULY 16, 2020 | $11.99 |
| COLORADO (MAP EXPANSION) | NOVEMBER 12, 2020 | $11.99 |
| CABIN ACCESSORIES | DECEMBER 3, 2020 | $3.99 |
| GOODYEAR TIRES PACK | MAY 10, 2021 | $2.99 |
| WYOMING (MAP EXPANSION) | SEPTEMBER 7, 2021 | $11.99 |
| TEXAS (MAP EXPANSION) | TO BE ANNOUNCED | TO BE ANNOUNCED |