Unable to access your Apple Music Replay playlists? Well, no web application is immune to issues. As far as Apple Music Replay is concerned, many users have reported running into problems while trying to access the feature. A common error message is as follows – "You haven't listened to enough music to generate a playlist—yet. Check out our recommendations in For You and start discovering tomorrow's favorite tracks today."
By the looks of it, the error message clearly signifies what went wrong. If a user receives this error message, it simply means that the user hasn't listened to enough tracks on Apple Music. Right? Well, that hasn't been the case for everyone. As it happens, several Apple Music users have reported running into this error even if they listened to songs on Apple Music every single day. So, why are users running into such an error? Apple hasn't shared any proper workaround for this problem. However, there are a few unofficial workarounds you can try. But, firstly, we need to clarify whether you meet a few pre-requisites. Keep reading this article.
What is Replay?
Replay is an Apple Music service that lets you access curated playlists, depending on what you have listened to all throughout the year. Music Replay tracks the music tracks you hear every day and lets you access your favorite songs, top artists, and favorite genres easily. It is an alternative to the more popular, Spotify Wrapped. It is obvious that Apple could have done better with Replay. We surely could use an intriguing user interface or some additional stats. However, Apple's Music Replay should fulfill most music lovers' basic expectations of a "Music Recap" feature.
Users can easily access Music Replay from here. But before you head onto getting your Replay Mix, make sure you have an active Apple Music subscription. While you are on the Music Replay website, sign in using your Apple account. Once you sign in, click/tap on Get Your Replay Mix.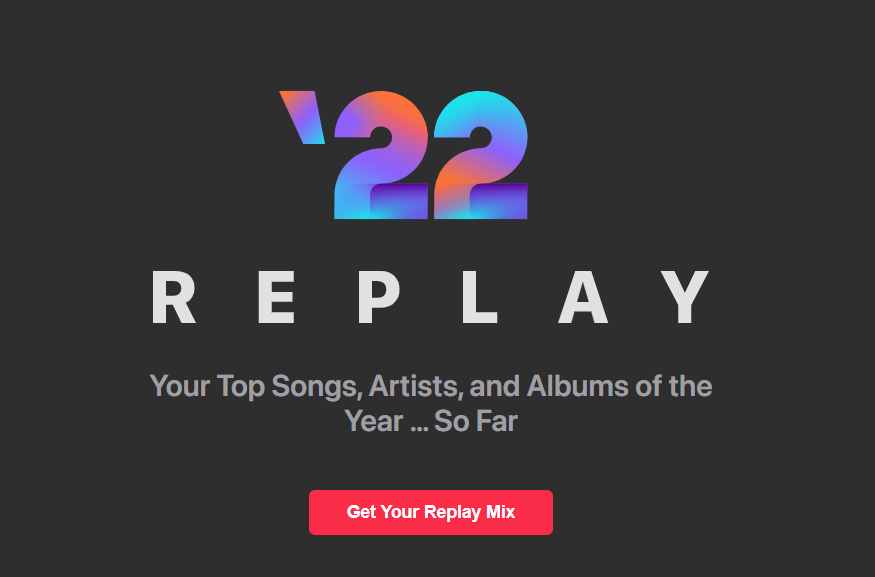 How to fix Apple Music Replay not working in 2022?
Make sure of the following things:
1) You should have an active Apple Music subscription.
2) You should have signed into the Apple Music Replay website using the correct Apple ID [on which Apple Music subscription is active].
3) Make sure that you have listened to enough tracks on Apple Music. You should link the correct Apple ID; link the account on which you have played enough tracks via Apple Music to Replay.
4) Make sure that you have enabled the "Use Listening History" feature. To enable listening history, open your phone's Settings app and then tap on Music. Here's toggle the option for "Use Listening History" to enable it. Now, play some tracks on Apple Music before trying to get your mix again.
If you are still unable to get your Mix, Apple Music may be facing a server outage or a serious problem. You can try getting your Replay Mix after a few hours, letting the developers fix internal issues. You can also try reinstalling the Apple Music app. Another thing you can try is signing out of the Music Replay website and signing back in. Lastly, performing a device reboot may also help.
Want to report an issue with Apple Music Replay? Click here for Apple's Support page. For more articles, stay tuned to us!