Baldur's Gate 3 has been pretty popular lately. Players are wondering whether they should invest their time and effort or wait a few months before going all out. We also agree with that sentiment since newer releases tend to have more bugs that get fixed over time. So does Baldur's Gate 3 have any annoying bugs that players should worry about? Yes, it does. In this guide, we will cover the latest bug that has been encountered by many. It goes by the name: Incompatible Version Save Error.
If you read this error message for the first time, you might think that it is related to hardware incompatibility issues. But wasn't the game running flawlessly before? So how can your hardware suddenly degrade? Well, contrary to what many people are speculating, this error isn't related to hardware. So, what causes it to occur? If you want more details on this, continue reading until the end to find out.
Baldur's Gate 3 (BG3) Incompatible Version Save Error: Is there any fix yet
It is no surprise to any Baldur's Gate 3 fans that the latest update, Hotfix 4, started all this. Soon after the update, every single player started having this same error while loading their save files. So the question comes: Is this new update the culprit? The answer is yes. As you can see in the image below, Larian Studios has acknowledged that this was their fault.
The studio further explained that the incompatibility issue was caused by a build error. That's why players can't load their saved files anymore. Also, they reverted the update until this issue was entirely fixed. So, what should be done now if you continue to face this issue?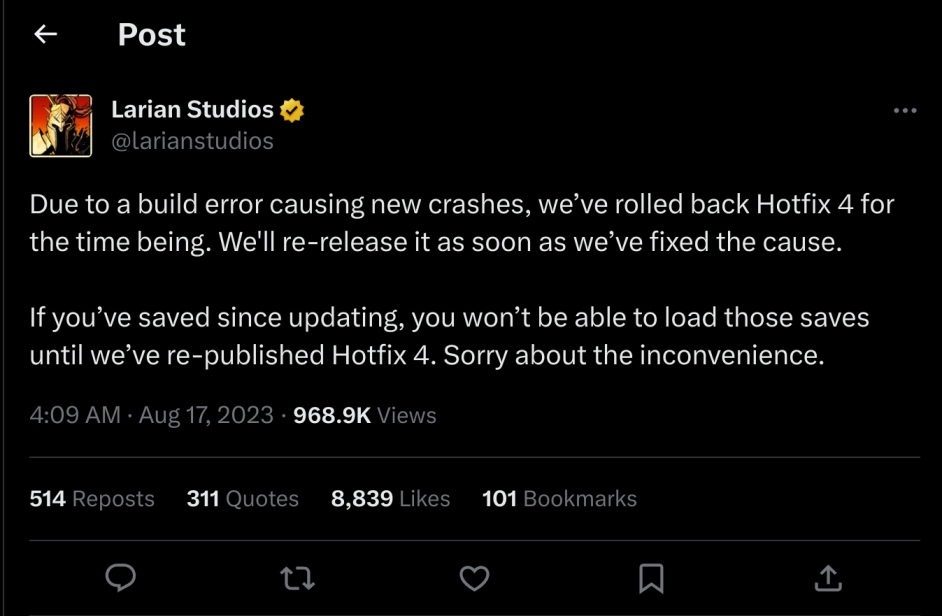 How do you fix this incompatible version save error?
Fortunately, the developer team redeployed Hotfix 4 on August 17, 2023. That was pretty quick, wasn't it? Now, all you need to do is update the game, and everything will be back to normal. Larian Studios further mentioned in the post on that same day that this error was unexpected and happened at the last minute. Anyway, now that they have redeployed the hotfix, chances are that the error won't occur anymore. However, if you are still encountering the same problem, here are some workarounds for you to try.
The first thing you can do is restart Baldur's Gate 3. It's possible that some files aren't loaded properly, so this may be causing the issue with the latest update.
Restarting your entire system may also fix it if restarting the game doesn't.
The last thing you can do is make sure that cloud sync is turned on. Go into Steam settings, and from there, open the Cloud Synchronization settings. Then turn it on.
You can also verify the game files to ensure that corrupt or missing files aren't the cause of this problem.
That said, we hope we cleared up everything regarding the incompatible version save error in Baldur's Gate 3. If you find this guide informative, follow Android Gram for more such content. Also, while you are here, check out our guide on how to use rope in Baldur's Gate by clicking here.