Looking for ways to be able to change the Jet and Helicopter controls in Battlefield 2042? Look no more! We have penned down the process to change the controls and make it close enough to what it was in Battlefield IV. Keep reading to know more.
Considering the average performance of Battlefield V in the market, it was expected that its successor would make it up to us shooter fans. Well, the first look of Battlefield 2042 doesn't disappoint, to be honest. Battlefield 2042 was created keeping in mind the modern era. It is also the first installment in the Battlefield series that is compatible with next-generation hardware.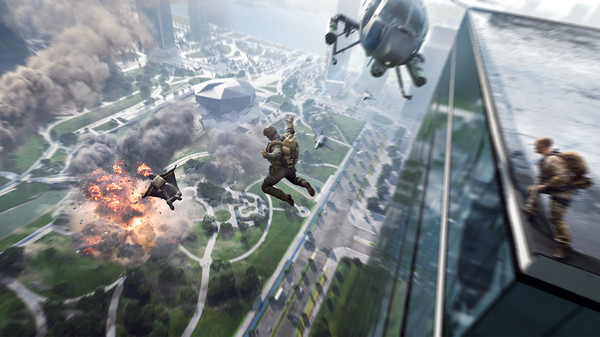 How to change Jet & Helicopter controls in Battlefield 2042?
According to Steam Charts, the numbers on Battlefield 2042 aren't disappointing. The game is a hit already. However, the number of bug reports is still a concern. Along with that, the game sports some confusing user interface elements as well. A few days ago, we wrote an article on how to change attachments in Battlefield 2042. Players were thoroughly confused on how to get about it. Well, DICE has tried to "improve" on some UI elements since the previous installments, but it didn't turn out quite nicely. Similarly, the confusing Helicopter and Jet controls of Battlefield 2042 are annoying players. Most of them want the old Battlefield IV controls as it was easy to understand. So, here's how you can change the Jet and Helicopter controls in Battlefield 2042.
Change Jet & Helicopter controls of BF 2042 to BF 4
So, first, you will have to open the OPTIONS menu, then select CONTROLLER Tab > CONTROLLER SCHEMES. Next, change all values as mentioned below.
Under the VEHICLES section: All four values should be set to "CUSTOM"
Under the AIRCRAFT section: Fixed Wing Pilot Sticks = DEFAULT, Fixed Wing Pilot Buttons = ALTERNATE, Helicopter Pilot Sticks = CUSTOM, Helicopter Pilot Buttons = CUSTOM
Once done, save it and return to the game. You will now be able to use an easier scheme to fly your helicopters and jets in Battlefield 2042. Following is the reference you will use after you make the changes above.
L1 = Fires guns
L diagonal pad = flares
UP diagonal pad = zoom
R1 = spot
R2 = aircraft up
L1 = Aircraft down
Hope this article was able to help you get your old Battlefield IV controls in Battlefield 2042. However, the game still has a lot of bugs capable enough to confuse you even if you get the control layout of your dreams. Keep reporting your suggestions as this is the beta phase; the developers are sitting with their ears wide open. For more guides or reports on Battlefield 2042, stay tuned.