Best Buy is one of the most popular all-in-one stores in the United States. Need something? Just Best Buy it. From appliances to toys, you can find just about anything in Best Buy. It also has a mobile app to make it easier for you. With more deals than you can handle, Best Buy is a good choice to shop from for your home's needs. Download the Best Buy app to experience the ease of online shopping.
Best Buy app features
We have listed the exciting features your Best Buy app will provide you with.
Get all app-exclusive deals on the Best Buy app: Check out the Deal of the Day and many offers exclusive to the app platform.
Locate your store and items: Locate stores according to your pin code. Access store timings and items availability.
Manage Best Buy account: Update your account information from the app, or pay your bill.
Get to know ratings and reviews of a product: Know what people think about the item before you buy.
Augmented Reality for your ease: Check whether the TV you are planning to buy is actually going to look good in your living room.
Get your order delivered or pick it up: Either way, get it super fast!
Check out Best Buy Pay: Exclusive for My Best Buy card members, there is a rewards program. More savings!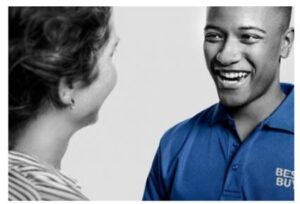 Best Buy app not working; here's how to fix
Is your Best Buy app not opening on your mobile device? Here's how to fix it.
Restart the application: This is the most common way to fix a crashing app problem. Clear all your apps from the recent window. Restart the Best Buy app.
Restart the device: Restarting stops all the background processes of your mobile phone, and hence if a process was causing the app to misbehave, it would stop.
Clear app data and cache: Try deleting app data and cache—open Settings on your phone. Go to the Apps section and find the app. Go to app info, and tap on Clear app data and the Clear cache. This step is for Android users only. In iOS, you can offload the app on iOS by visiting Settings > Storage > Best Buy > Offload App. Clearing app data helps if there is some problem with the in-app processes.
Force stop the app: This method is also for Android users. Long press on the app and click on the "i" button. Tap on "Force Stop." For iOS users, clearing recent apps will help.
Contact the app support: If the problem persists, contact the app support from the in-app Help option. Check out their support section here. You can also contact them at 1-888-237-8289.
Best Buy is running a campaign for the 4th of July exclusive offers. You wouldn't want to miss it. Use the tips above to fix any problems you face with the app.