Did you come face to face with Leshy in Cult of the Lamb? Wondering how to defeat your first big boss of the game? Then you, my friend, need to read the whole article. A lot of players struggle against Leshy because the game jumps the difficulty by a few levels once you meet this creature. Leshy is very different from your regular mobs and possesses lots of different attacks. So, if you are looking for an answer as well, then you don't have to look any further. In this article, we will tell you how to defeat Leshy in Cult of the Lamb. So, stick with us till the end.
Cult of the Lamb is a very interesting rogue-like video game. On one hand, the game will ask you to perform rituals and sacrifice others. On the other hand, you will also need to build houses and kitchens in order to keep your followers happy. Since you start a cult, you need to gather followers and make sure that they are satisfied. You can smoothly cruise through the game till you meet Leshy. This bishop is the first big obstacle that you will need to fight in the game. So without any further ado, let us proceed with the main topic at hand.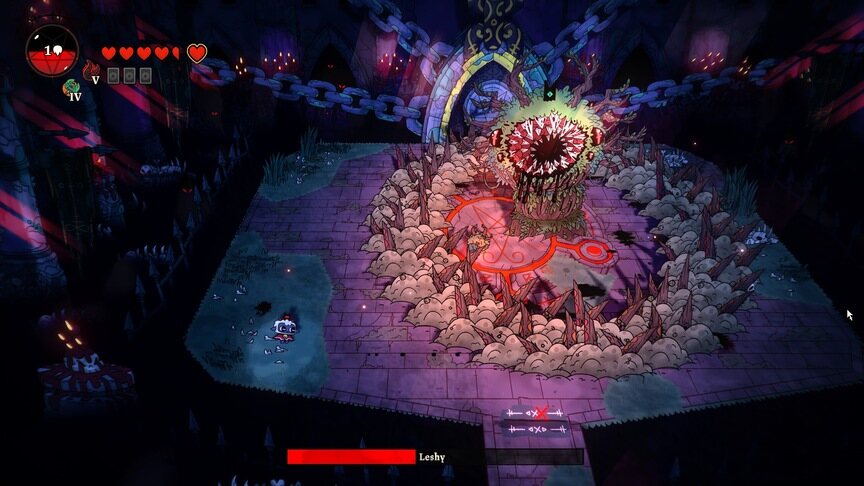 Cult of the Lamb: How to defeat Leshy?
If you remember the Amdusias, Valefar, and Barbato's fights, then you are already set for the Leshy boss fight in Cult of the Lamb. Leshy has similar move sets so you shouldn't have too much trouble dodging the attacks. The boss will sometimes submerge into the ground. It will leave behind a trail that will throw skips and damage you. Other than this, Leshy has some other moves as well. For starters, Leshy will throw some orbs in your direction. Fortunately, it is quite easy to dodge this attack. Next, keep an eye out for the large eruption of spikes around the boss. Since the attack takes some time to fully explode, you can dodge it.
If you time your rolls correctly, you will be able to dodge Leshy's wave of spikes. But, if you mess up the timing, then be ready to take a lot of damage. You should also watch out for Leshy's triple head slam attack. Simply keep your distance and attack with curses to damage the boss. Leshy's one of the most annoying attacks is the minion summon. The summoned worms can cause a lot of problems. So, deal with them as soon as you can. Well, this brings us to the end of this article. We hope that you found it helpful. Stay tuned to Android Gram, and happy gaming.