Darkest Dungeon 2 is a much-awaited continuation of its predecessor, requiring players to lead a group of heroes through foreboding and dangerous environments. As the full version of the game is released, most people will feel like playing it using a controller to increase their overall gaming experience so that they can enjoy the game even more. But, for that to happen, the game must be compatible with the use of controllers. In this article, we will tell you whether Darkest Dungeon 2 offers controller support on PC and all you need to know about it.
Darkest Dungeon 2 Controller Support on PC: Is it available?
Almost every game released in 2023 comes with full controller support on PC, considering they have been released for consoles as well. However, Darkest Dungeon 2 is currently available on PC only, and on top of that, it doesn't feature controller support. Many players who play Darkest Dungeon 2 have been looking for an answer to this.
People have raised questions regarding this issue on the game's Steam discussion page. While it is disappointing that DD2 doesn't feature controller support, a user in the forum said that Darkest Dungeon (the previous installment) did have controller support. Well, this gives players a glimmer of hope.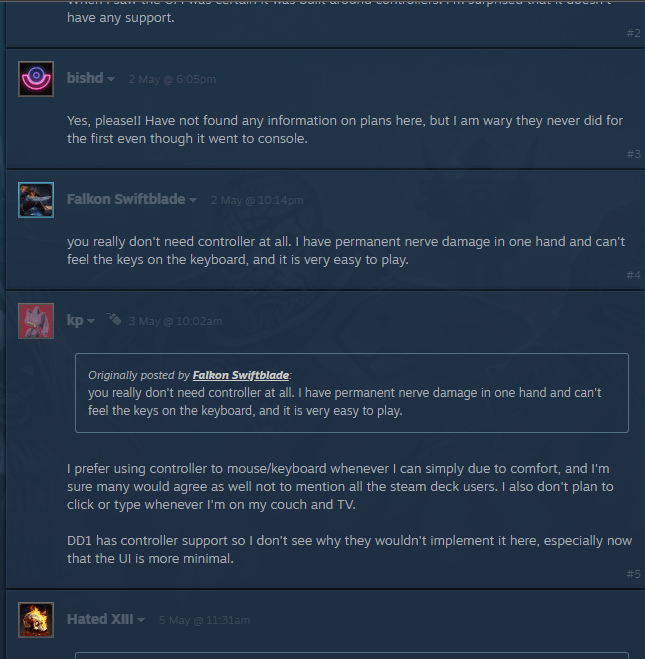 Many users tend to prefer controllers because they find them to be more relaxing and comfortable. This only raises more reasons for the game's developers to add controller compatibility to their game. As per a few Steam users, the game was set to release with support for controllers, as stated in the FAQ post. However, the references to the feature were subsequently removed.
Have The Developers Added Controller Support in Darkest Dungeon 2?
The answer is no. As of now, the devs haven't added controller support in Darkest Dungeon 2. However, they have released an official statement stating that controller/gamepad support is currently in the works. But, the developers haven't mentioned any release date for such an update, so right now players will have to wait. Since controller support has become the norm in today's era, we are quite sure that the developers will bring it to the game sooner rather than later.
Well, that's all the information we have regarding the availability of Controller Support in Darkest Dungeon 2. If you found this helpful, then make sure to check out AndroidGram for more gaming-related content!