Fan of racing games? F1 2021 is here to tingle the adrenaline inside you! It is the official Formula 1 game made with the intention of simulating the feel of being a Formula 1 racer. Based on the real Formula 1 scenario, F1 2021 can bring immense fun to gamers, and fans of Formula 1 as well.
If you are regular with racing games, you must have a racing wheel. According to posts on Steam Community, the F1 2021 is facing issues with Force Feedback. This is happening to racing wheel users and is quite disappointing to the fans. To know more, read this article.
F1 2021 game Force Feedback (FFB) not working
The trouble with Force Feedback can hamper the racer's experience exponentially. Force Feedback tries to simulate the real-world feel so that the racer can enjoy the game even more. All games are judged based on how they appeal to the human senses. Good graphics and immersive sound tingle our vision and hearing. Force Feedback brings us the sense of touch.
F1 2021 racers are not happy with the malfunctioning FFB in the game. This issue seems to be happening with all models of Thrustmaster racing wheels. Upon the report made by one user on Steam, several other comments followed which described the same issue with Thrustmaster wheels.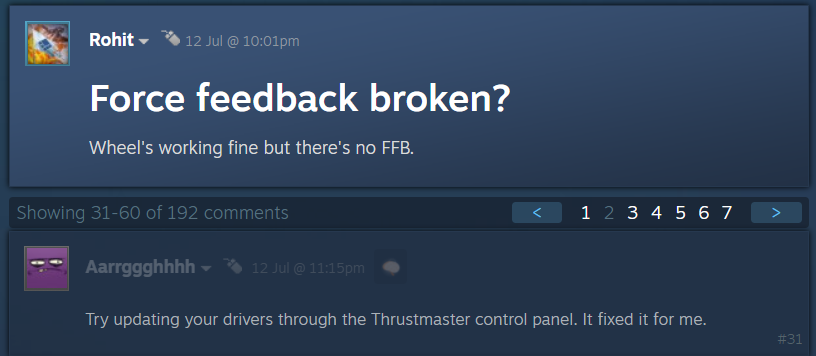 Force Feedback (FFB) broken; fixes suggested by players & developers
Fixes suggested by players
The post on Steam had attracted a lot of similar complaints. But, out of the long list of complaints, we could spot some fixes which worked for a considerable number of players. We are listed those here.
Visit the Control Panel of Thrustmaster, and click on Search for Updates on the bottom right. After installation of updates, update the wheel's firmware. To do so, search for Firmware Updates in the start menu or visit the official Thrustmaster's page for instructions. Note, this is for Thrustmaster TX and more.
Re-install wheel drivers, or install any pending updates. Run the game as an administrator. To do so, right-click on the game launcher and click on Run as administrator.

Open the Steam Folder on your PC. Click on the Common folder. Then, click on the Steam apps folder. Look for F1 2021 folder, click on it, and then find the F1_2021_dx12.exe file. Right-click on the file, and open it. This will launch the game and the force feedback will be present.
Fixes suggested by developers
Models of Thrustmaster which support Force Feedback on F1 2021:T80/T150(Pro)/T300/T500/T-GT/T-GT IITMX(Pro)/TX/TS-XWTS-PC. Note that, Thrustmaster PS4/PS3 controllers need to be in PS3 mode to connect to PC. Check to see whether your Thrustmaster is compatible.
Your wheel firmware and drivers should be updated. Also, console players should attach their wheels to a PC for it to work properly.
Here's the link for the latest Thrustmaster's driver and firmware package. Note that, it is a direct download link.
The above techniques will definitely solve the issues you are facing with Force Feedback.
If you are facing a crash issue on the launch of F1 2021, visit this link for more information.