Getting comfy on the island of Fae Farm's Azoria is not a good choice. After you land on the shore of this island, you are almost stranded alone forever. So you will need to start exploring, and the first person you will meet in Fae Farm is an NPC called Merritt. Surprisingly, she is not just any ordinary NPC; instead, she is the mayor of the land of Azoria. She will tell you all about this unknown land and also teach you some basic survival skills that will be the foundation of your journey. One of the quests that she gives you is to look for a unique plant called Arugula. So, if you are unable to find it, this is just the guide for you.
Arugula is an edible plant that restores +5 energy upon eating. It may sound like a fantasy name, but it's a real salad plant that is pretty famous in the United Kingdom. Anyway, on your very first in-game quest, Merritt will ask you to tidy up the land near your new home. Also, you are asked to bring a few items along with five arugula leaves. So now let's see how to find this particular plant and complete the quest.
Fae Farm Arugula: How to get & find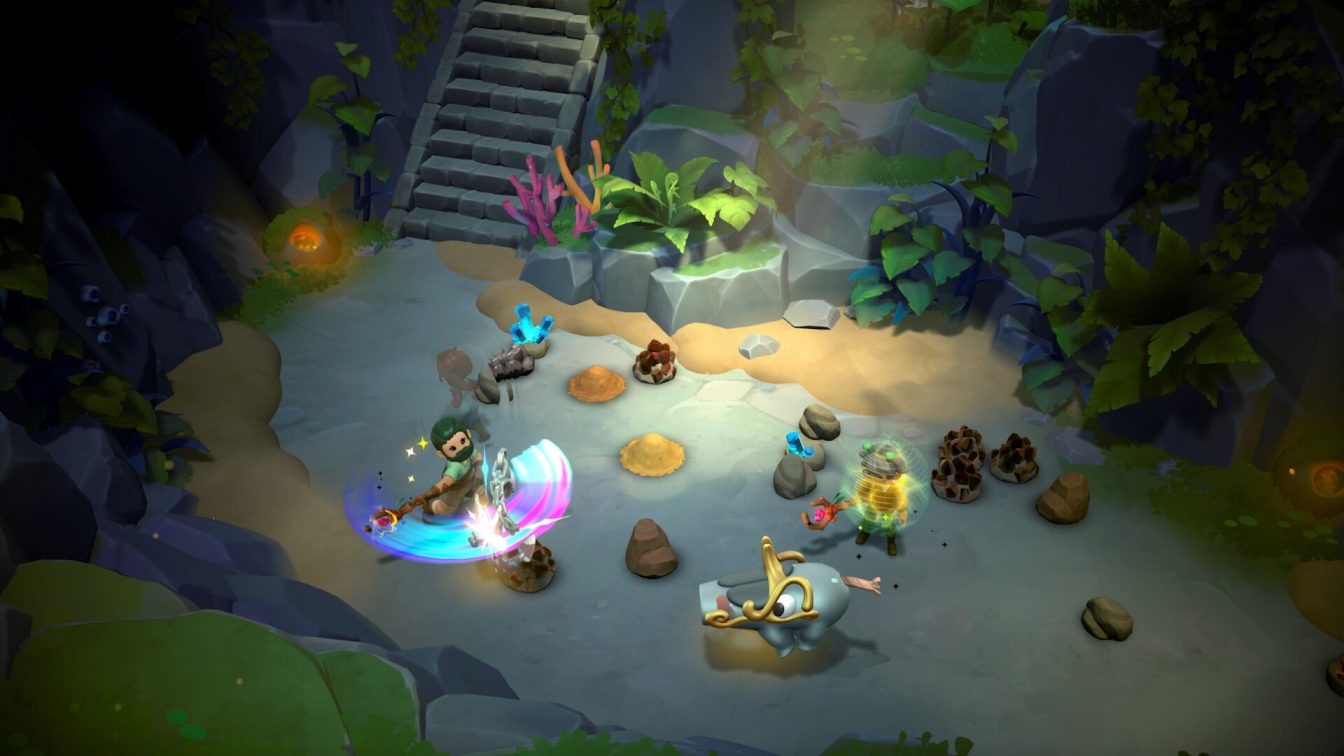 Arugula is not just a simple consumable plant. It's also an ingredient in many dishes that you will learn about in your long farming journey. One of them is grilled greens, which will grant you a total of +15 energy upon eating. That's why it's wise to save if you have any leftover arugula by the end of this quest instead of eating all of it. Now let's see how to locate these green plants:
How do you find arugula in Fae Farm?
On your quest to clear the area for your new home, you will be asked to pick up a few stones, beech logs, and arugula leaves. Since this is a plant, you will get plant fibers along with edible leaves. Remember that it looks very similar to ordinary grass that is not edible. But once you know how it looks, there will be no more confusion.
Once the quest starts, start walking on the land that is facing the other side of your new home. There will be lots of wild bushes with multicolored flowers blooming on top. Ignore those and just look for a bunch of big leaves growing together that will have a dark green color to them. This plant will have no flower on its top, and its normal diameter is less than the bushes with flowers. Once you locate it, simply press right-click if you are a PC user, or tap the X button on your controller. Then, your character will automatically pick up the vegetation.
A few reminders regarding this plant
Also, remember that arugula is a seasonal plant. It only grows in the Spring season. But wait, what season is it? Fortunately, when you start your game, it starts its seasonal cycle from Spring. So you will be able to find plenty of arugula on your way. Remember that this is a necessary cooking ingredient for many of the dishes that you will be learning. So it's better to pick as much as you can before spring ends.
That's it for this guide on how to find arugula in Fae Farm. Make sure to follow Android Gram for more. Also, you can click here to learn about catching bat rays in Palia, or click here if you have an interest in getting blueberry seeds instead.