Screen Flickering issues are common in many games and the recently released simulation game, Farming Simulator 22 is no exception. The screen flickering issue in Farming Simulator 22 is currently troubling a lot of players as they are not able to enjoy the experience of the game to the fullest. Well, if you are facing the same issue, then don't worry as we have the perfect solution that seems to be working for many. Continue reading for more details.
Officially released on the global market on 22nd Nov 2021, Farming Simulator 22 was one of the most anticipated simulation games of 2021. Well, the game managed to live up to the hype and is currently featuring over 15K players on Steam with an all-time peak of over 100K players. However, the game surely has a bunch of issues that are responsible for ruining the experience and if the devs don't come up with new patch updates to fix these issues, then it is just a matter of time before Farming Simulator 22 becomes yet another failed simulation title. Fortunately, the issue which we are going to be discussing here can be fixed with ease. More details are shared below.
Wondering why FS 22 runs on 60 FPS(max) even when you have a very powerful GPU? Visit here to know more. 
Farming Simulator (FS) 22 Screen Flickering Issue: How to fix it?
A player has posted on the official Steam Discussion forum of Farming Simulator 22 about the screen flickering issue on his system which is running the game on 2k resolution with max settings. Well, another player reported that the flickering issue is occurring on one of his systems with an RTX card and not on the system with a GTX card. Since many have reported the same, we have come up with a potential fix that seems to be working.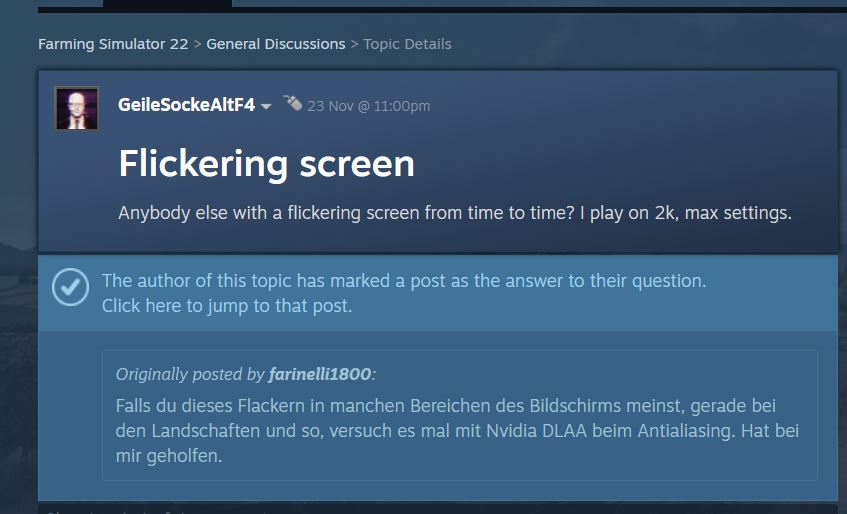 Screen Flickering in Farming Simulator 22 occurs due to the Nvidia DLAA feature that is supported by RTX cards. So, to fix this issue, all you need to do is simply head to over the Settings menu and under the Advanced Graphics Settings, find the Post-Processing Anti Aliasing option. Make sure to set it to "TAA" instead of "Nvidia DLAA". Once this is done, save the setting and now check if the screen flickering issue persists.
Well, this was our guide on how to fix the screen flickering issue in Farming Simulator 22. For more such guides and information on new games, make sure to stay tuned with us on AndroidGram.