Want to send your friend a picture that disappears in 10 seconds? Snapchat is here for that. Snapchat is a wildly popular social media platform where you snap pictures or videos to send to friends. The catch is that the pictures have a time limit after which they will disappear. Moreover, once you open a snap, you are allowed to replay it only once, and then the snap is gone. Your friend's activity on your chat will be visible to you and vice versa. If he takes a screenshot or replays a snap, you will know it. Users can realize how interesting this app is.
Features of Snapchat
You can add friends by their id, or full name. If they accept, you can then send snaps to them. Snapchat also has tons of filters to choose from. These filters are hilarious and can make the conversations even more interesting. Moreover, you can maintain snap streaks with your friends and also upload stories that disappear after one day.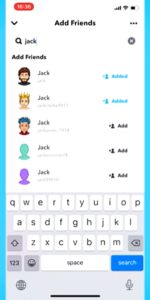 How to fix add friends option not working on Snapchat?
Is your Snapchat app glitched? Are you unable to add friends? No worries, as we have a few ways in which you can resolve the add friends not working issue.
Check for updates. Pending updates on Snapchat sometimes causes glitches like this. Install any pending updates and your add friend option should be working fine again.
Clear app cache. Open your Snapchat app. Go to the settings page. Search for the "Clear cache" option and tap on it. This will clear your app's cache and should be able to solve the problem.
Clear app storage. If you are an Android user, long-press the Snapchat app and tap on the "i" option. On the app information page, find "clear data" and "clear cache". Tap on both. Then, restart Snapchat. If you are an iOS user, go to settings and tap on "iPhone's storage". Find Snapchat in the list of apps and tap on it. Tap on the "Offload App" option. Then, restart Snapchat. Your app should be working fine by now!
If none of the above steps works, you can ask for help from Snapchat Support. You can reach them here.
We hope you can add your friends on Snapchat by now!