Today, I will be bringing you guys the ultimate guide to disable fullscreen optimization in Fortnite for 2022. But today, we're also focusing on some other optimizations for Fortnite. You can set these to reduce any micro stuttering you may be experiencing due to fullscreen optimization. It will increase your overall FPS too. It will also allow you to achieve the best gameplay experience possible for your PC depending on your system specifications. So, first of all, we're going to be tackling the installation of Fortnite itself.
Keep your eyes to the sky. Hop in tonight, you won't want to miss the show once the clock strikes midnight!

And don't forget to grab your 2022 items in the Item Shop. pic.twitter.com/c78QZ2iGMz

— Fortnite (@FortniteGame) December 31, 2021
How to improve Fortnite's overall performance?
1) Start the Epic Games Launcher. Navigate to the Library, find Fortnite, and navigate down to the Windows File Explorer icon. Navigate to the left-hand side and click This PC. You should ensure that Fortnite is installed on your system's SSD, if available. According to player reports, running Fortnite on a hard drive is one of the most common causes of frame drops, lags, or performance issues in the game.
2) Now, let's move to the Windows operating system optimizations and tweaks. These are safe, incredibly easy to perform, and effective optimizations. We start by opening the Start Menu, typing in Game Mode, then clicking on Game mode settings. Ensure that the Game mode is turned ON.
3) Next, navigate to the Xbox Game Bar. Ensure that Enable game bar is disabled.
4) Last but not least, navigate to Captures. If Captures is turned on, disable it. Once done, we can then go ahead and close the Settings window.
So, now let's move on to the best method to fix stuttering and lags: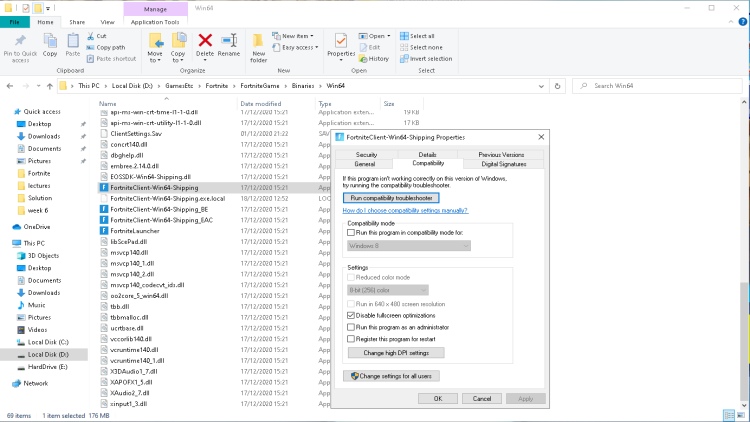 Disabling fullscreen optimization in Fortnite
1) Close Epic Games Launcher completely.
2) Navigate to Fortnite's installation directory. Right-click on the game's .exe file, and click Properties.
Usual Location: Epic Games\Launcher\Engine\Binaries\Win64\EpicGamesLauncher.exe
3) Go to the Compatibility tab.
4) Check the box beside "Disable fullscreen optimizations"
5) While you are there, you can also check the box beside "Run this program as an administrator".
6) Click Apply and then OK.
This setting must be set according to your system specifications. For those of you running Fortnite on medium-end to ultra-high-end gaming PCs with powerful hardware, I'd recommend leaving this option unchecked. I'd recommend selecting this "Disable fullscreen optimizations" option for the best Fortnite playing experience for medium and low-end PCs.