Ah, Bitcoins! These single-handedly (literally, a single bitcoin is worth $100,000) were able to catch every millennial's attention. Bitcoin is an investment that has become hugely popular these days because of its high probable value. In addition, it reduces the effort and the need for banking to apply for investments.
Why use Binance?
Binance is said to be the largest cryptocurrency exchange in the world in terms of trade volume. This means you can trust the platform for your bitcoin investments as it is top-rated by millions of people around the world. However, before investing, you will have to register your account with Binance. In addition, you can go through the market trends which Binance features on their homepage before investing. Binance also boasts of 24×7 online customer support; you will have their back all the time. You can buy your own bitcoin using many payment methods like bank deposit, credit/debit card, P2P trading, cash balance, or third-party payment.
Binance offers other types of investments, too, like trading, derivatives, and finance. You can check out their website or the mobile app (yes, they are cross-platform too).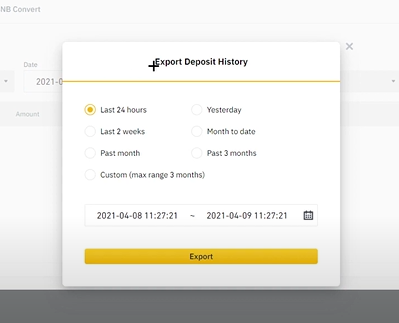 How to check your transaction history on Binance?
Coming to the real question, is your transaction history available for export on the Binance platform? Of course, it is. Here are the steps to access it.
Log in to your Binance account.
Click on the Wallet option, and a dropdown menu will appear.
Select Fiat and Spot Option.
Scroll down to find the Transaction History tab.
Your deposit/withdrawal, transfer, and distribution history will be available.
You can select a custom date range or search for a particular transaction on the website.
You can also choose to export the history as an excel spreadsheet. To do so, click on the "export history" option on the top right.
As you can understand, Binance is a versatile way to invest in your very own bitcoin. It offers a host of options for your transaction to be as smooth as possible. Follow the above steps to check your transaction history on Binance.