Google's apps like Youtube and Play Store are foolproof in terms of superiority and most other aspects. However, they do tend to run into issues from time to time. For example, many users have complained of a frequent error code 400 while accessing the Youtube or Google Play Store app on their smart TV. Now, if you are an Android TV user or a Youtube enthusiast and the error code 400 is bugging you, don't worry. It is, fortunately, easy to debug the Google-related error code 400 on your smart TV. Read this article to find out ways to get rid of the issue.
How to fix Google & YouTube Error 400 on Smart TV?
There are a few working troubleshooting techniques to fix Google or Youtube Error 400 on your Smart TV. The best way to get rid of the problem is to clear Youtube's or Play Store's cache memory. However, restarting the TV may help eliminate the error code. We have listed all the techniques for you to try –
1) Reload the Youtube App and then the video: When you encounter error 400, first make sure you restart the Youtube app and then try playing the video game. According to user reports, a simple app restart may resolve the error code 400.
2) Restart your streaming device or TV: If you are using an Android TV streaming device or seeing the error on your Smart TV, a simple restart may help resolve the error. Follow the instructions according to the TV manual, or try holding the power button on your remote for a quick restart.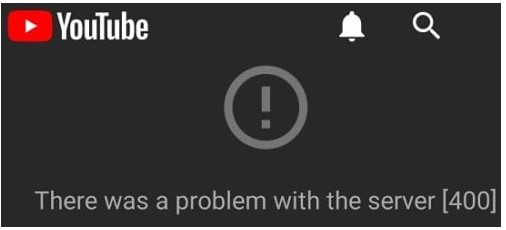 3) Check your network connection: The most common reason behind a malfunctioning Google or Youtube app is an unstable internet connection. Make sure you have a fast and reliable internet connection to avoid error code 400. If you see the error code 400, try restarting your router. You can even contact your ISP to fix an unstable or slow internet connection.
4) Clear Youtube/Google Play Store app cache: Visit your Smart TV's Settings and then look for Apps. Now, open the list of System Apps, look for Youtube and tap on it. Then, tap on Clear Cache and Clear Data to clear app cache and overall data. Now restart the app and try running the video again.
That's it. You should not face the error code 400 anymore while running Youtube on your Smart TV. For more helpful articles like this, stay tuned to Androidgram!