Wondering how to use the Rooter app for maximum benefit? Look no more, as we are here with the exact guide that you need! Well, using Rooter isn't a confusing process. So, there's nothing to be worried about. However, if you follow some pointers, you'll easily be able to earn a bunch of Rooter coins everyday! So, let's not waste any more time and get rid into the discussion.
The Rooter app is a popular platform for watching and streaming video games. As a viewer, you can watch streams of your favorite content creators, discover new creators, and support them. Viewers can participate in special events where they can win giveaways, premium in-game items, and more. On the other hand, if you are a streamer, Rooter provides an easy-to-use and free interface to showcase your content to millions of users. There are about a million content creators on Rooter as of now. Since the video gaming and esports industry is blooming and shows no sign of stopping, Rooter's success is inevitable. Very recently, Rooter managed to raise a whopping $25 million as funding from investors. This event alone defines Rooter's future.
How to use Rooter app?
As mentioned before, Rooter is an easy-to-use application. You can use the website as well, but it's functionalities are limited. The Rooter app is available to download for free from the Google PlayStore or Apple AppStore. Simply search for the 'rooter app' on the search bar when you open the PlayStore or AppStore and when the app shows up, tap on it to open its page. Hit Install or Get to download the app on your phone. Note that you may find some websites claiming to provide a genuine apk for Rooter or a mod that gives you unlimited coins on Rooter. Please refrain from downloading the app from unknown resource to avoid facing a ban or downloading a malware on your phone.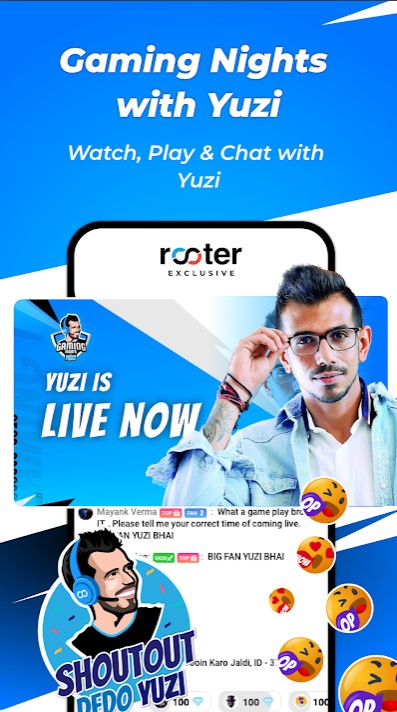 Once you have downloaded the app, open it, enter your phone number and tap on Continue to create a new account. If you have an old account, you can also sign in to it. Now, choose the games you like – up to three games. Once done, Rooter will personalize the feed for you. Now, to stream your games, you can simply hit the plus button on the menu and choose Streaming. Follow the on-screen instructions and you'll start streaming in no time. As a creator, you can also create and post videos of 5 sec-15 mins, and post pictures and polls. Tap on the trophy icon on the menu to open a list of events that streamers and viewers can particpate in to win Rooter coins and rewards.
Also Read: Battlegrounds Mobile India (BGMI) friends list not showing: Fixes & Workarounds
As a viewer, you can participate in events to win coins and also watch your favorite content creators and support them. Fans can simply use the search tab to search for their favorite creator's Rooter profile and choose to follow for immediate notifications. Any Rooter app user can particpate in daily spin, daily tasks, weekly tasks, and more to earn Rooter coins and special rewards.
We hope this article helped you figure out the working of Rooter app. For more articles, stay tuned to Androidgram!