Minehut offers servers to host personal Minecraft games. So, now you and your friends can play the game without strangers bothering you. Minehut can improve the game performance manifolds. Their servers can provide privacy and security to the game and your system. If you have a game hosted on a Minehut server, people outside of the server will not be able to destroy or "grief" your game. That is a very big advantage. Moreover, Minehut provides free server hosting for your game. If your Minehut server is refusing to connect, you can check out this article to know how to troubleshoot it.
Minehut: Whitelisting
As you already know, Minehut allows you to keep strangers out of your game. This can be done using a feature called Whitelisting. Basically, you will "whitelist" those people you want to enter your game server. We will tell you how to add people to your whitelist or remove them from your whitelist. Get ready for some no-nonsense, fun Minecraft games with your friends. Remember that to whitelist someone, you will have to make yourself an OP first.
We have listed the steps for you to whitelist anyone you want to.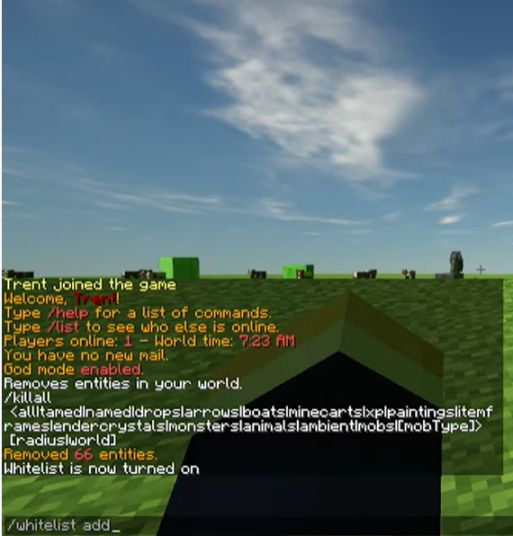 Start a Whitelist
Start a Minehut server.
Head to the Game Panel
Open the console on the left of the panel and type "whitelist on", then press enter.
You will see a message that says "Turned on the whitelist" confirming that the whitelist has been successfully turned on.
Adding a friend to your whitelist
Go to the game panel and open the console.
You will need to type "whitelist add *name of player*". For example, "whitelist add kirinaop".
Press enter, and you will see a message stating "player added to whitelist".
Remove your friend from the server
Head to the game panel and open the console.
In the console, type "whitelist remove *name of player*".
Press enter, and you are going to see a message saying "player removed from whitelist"
Whitelisting in Minehut can save you the pain of anyone bothering or "griefing" your game. Use whitelisting to play fun custom Minecraft games and experience the power of a Minehut server.