Wondering if RDR2 is more CPU intensive or GPU intensive? Well, this article will answer that for you! RDR2 or Red Dead Redemption 2 was released back in 2018 but is still popular among RPG fans. RDR2 is an action-adventure video game created by Rockstar Games of the GTA series fame. As you may already know, role-playing games usually involve a lot of visual elements, especially the characters. Red Dead Redemption 2 also features a vast open world that players can explore. Although it is a single-player game, you'll be interacting with a lot of non-playable characters in the story. The multiplayer component of Red Dead Redemption 2 is known as Red Dead Online, where players can team up with a group or participate in multiplayer activities as a single player. Keep reading this article to know whether the game is more CPU or GPU intensive.
What are the system requirements for RDR2?
While most role-playing video games are heavy on the GPU, RDR2 is not an exception. The game requires a good GPU to render the intricate details of the open-world environment. Also, if you play (or plan to) the game at a greater resolution, there's no way you can compromise on the graphics card. So, it's safe to say that Red Dead Redemption 2 is definitely GPU intensive. But some players have reported that the game does get CPU intensive when they visit cities with a lot of NPCs. In fact, Red Dead Online may seem to be more CPU intensive at times due to the multiplayer component.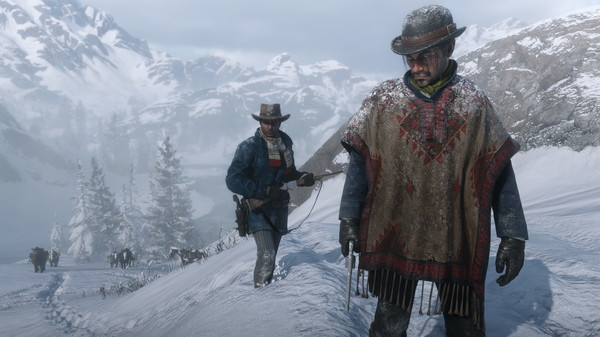 While the minimum specs stated by the developers can definitely run the game, you'll get the 'bare minimum' experience. Hence, we will be listing the recommended specs instead-
CPU: Intel Core i7-4770K or AMD Ryzen 5 1500X
GPU: Nvidia GeForce GTX 1060 6GB or AMD Radeon RX 480 4GB
System RAM: 12GB
In 2022, getting a modern CPU would be a better choice. A twelfth-generation Intel i7 processor or a Ryzen 7 processor is a good choice for any gaming PC. Modern CPUs will future-proof your system and help get better frame rates in video games. Since RDR2 is a GPU-intensive game, you'll need to focus on the graphics card as well. If you have a tight budget, upgrade your graphics card first. But if your system's CPU is old, it may bottleneck the newer GPU's performance. So, make sure they are a good pair. Make sure you opt for VRAM above or equal to 8GB if you are getting an upgrade. A GTX 10 series card would be fine, but if possible, try opting for a 16 series or an RTX card. You can also opt for AMD graphic cards – they provide great performance and cost way less.