Wondering whether the action rogue-like indie game – Vampire Survivors – is coming to PlayStation, Xbox, or Nintendo Switch consoles? This article will clear all your doubts related to that! Vampire Survivors was released back on December 17, 2021. But it was not until February 2022 that the game reached its peak popularity. However, the game is still in early access; it is priced at three dollars – extremely nominal if you ask us. Slashing through a herd of enemies is extremely satisfying in this arcade-style video game. If you have tasted the fun of rogue-like video games before, we bet Vampire Survivors is going to be your next favorite! Keep reading to know more about what the game brings to our plate.
The developer, Luca Galante (also known as poncle), seems to have a lot of plans for his "dream project". Now that the game is a hit, those plans should certainly come to life soon. Most fans stumbled upon the game through Steam's top-played list and decided to give it a try, only to become addicted to its gameplay later. Vampire Survivors still features limited content, which is fine considering that it's still an early access version. Poncle promises to bring in more characters, stages, weapons, and RPG elements along with a campaign mode in the future. Currently, the game is only about 60% complete, and the developer has planned to keep it in early access for a year at least. Fans are looking at a year full of surprises in Vampire Survivors!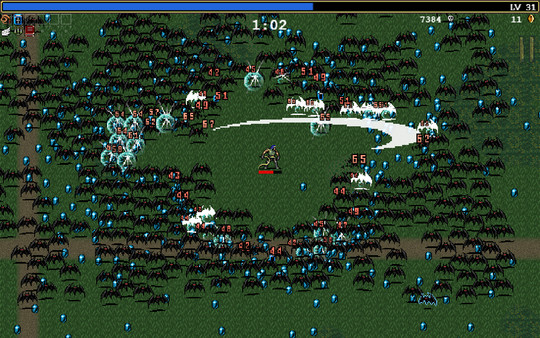 Will Vampire Survivors release on PlayStation, Xbox, and Nintendo Switch?
Also Read: Is there a Fragile Existence PS4, PS5, Xbox Series X/S, Xbox One & Nintendo Switch Release Date?
There's no solid answer to this question. We could neither spot a rumor suggesting a console release, nor did the developer confirm anything regarding the same. Currently, Vampire Survivors is only playable on PC via Steam and is priced at three dollars on the store page. You can also access a limited version of the game via the official website. The web client lets you play the game for free on any javascript-enabled browser (preferably Google Chrome!). However, the content you will get on the demo web version is limited; like, you can play only seven characters compared to the total of eleven on Steam.
As mentioned above, Vampire Survivors is still in early access for PC. As a result, it is unlikely that poncle will surprise us with a console release anytime soon. The PC early access will continue until at least the end of 2022. A valid claim may anticipate a console version during full release. We will definitely not see a PS4, PS5, Xbox Series X/S, Xbox One, or Nintendo Switch release before the game reaches a final state.