Microsoft is known across the globe and recognized by almost every individual. The story of Microsoft and its history is read by every student and praised. Microsoft is a multinational tech company known to invent, develop, and manufacture the computer and computer-related products. Since the failure of Microsoft smartphones, the company has been focussing on smartphone-related apps as the devices didn't work out. The apps from Microsoft can be run on Android devices to enhance functions and performance.
Microsoft's search engine is called Bing. Immensely popular among computer users, the same is available as an application for smartphone users. Bing Wallpapers Apk runs with Bing search engine with various features and hence, here we are with the download link and all you need to know about the app.
Bing Wallpapers Apk Features-
This is an official app from Microsoft Corporation. As the name suggests, the Apk has a lot to do with Wallpapers and images. First of all, Bing Wallpapers is to enhance the homepage of the Bing search engine. This app features a wallpaper collection that shows up on the Bing app. But here's the catch- these change every day; new wallpapers show up after a period when you one the Bing search engine.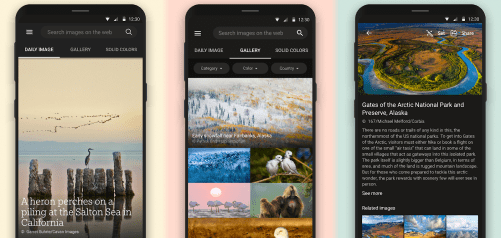 Also, the wallpapers not only are visually fantastic but loaded with the information too. Every wallpaper the app enables consists of information about the location and photographer. The app also mentions the reason behind why the wallpaper is featured. As the officials' quote, each image tells a story! In the browsing options, you get to filter color, category, and locations of search. Above all, Bing Wallpapers add to the search by image option to enhance the browsing experience along.
Users do not need to manually check for updates. The app updates new wallpaper every 24 hours. The background changes automatically without any users' command. Bing Wallpapers Apk supports landscape mode. Continue reading to download the Apk.
Download Bing Wallpapers Apk-
App Name
Bing Wallpapers Apk
Version
11.0.28179402
Size
4.16 MB
Apk Features
New Wallpapers

Automatic change every day

Automatic update

Last Update
May 7, 2020
Compatibility
Android 4.4 and up
Link
DOWNLOAD APK
Download the file from the link given above. For Android version 6 and above, allow download from unknown sources in Settings > Security.
Reach out to us via the comments section if you face any trouble installing Bing Wallpapers Apk. Rest assured, we post updates and related content every day, so stay tuned. Also, share this article with all those who might find this helpful!