NBA 2K23 features a wide range of control that players can customize according to their needs. You can make a lot of changes in the game to make the experience more fun. However, changing every setting one by one according to your liking can be time-consuming. Therefore, we have some of the best controller settings that you should try in NBA 2K23 to get the most out of the game. So, go through all the settings and feel free to tweak and try your own settings too according to your own convenience.
Also read: NBA 2K23: How to the change shot meter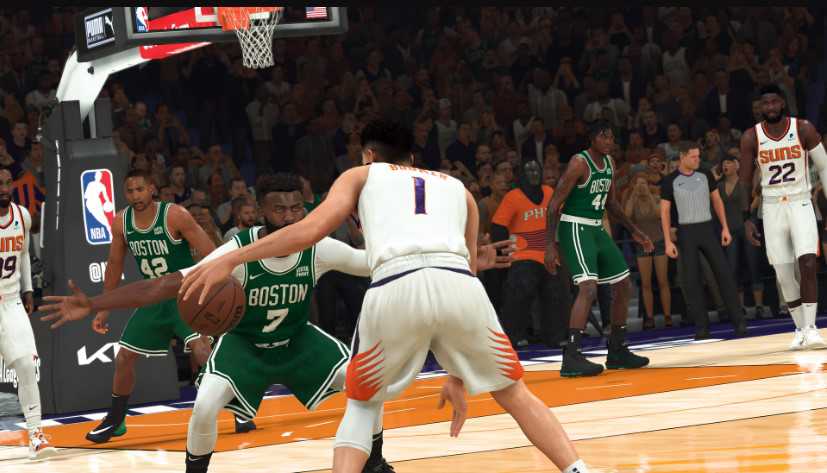 NBA 2K23 Best Controller Settings that you should try
These are the controller settings that will help you to progress in the game more conveniently than some default in-game settings:
1) Vibration: Vibration is one of the subjective controller settings in NBA 2K23 that varies from player to player. Some people feel the vibration cue is helpful while others find it distracting. You can play some matches in any mode and decide if you want to keep the vibrations on or not.
2) Shot meter: If you are new, keep the shot meter on for a few matches and then start increasing your dependency on muscle memory. When you keep the shot meter off, you also get a little accuracy boost so keep that in mind too.
3) Shot timing: Keep the shot timing to Shots Only.
4) Perfect release: Perfect release is an indicator that appears when you time your shot perfectly. You can keep it on to check your shots if you want otherwise, you can just turn it off.
5) Perfect Release SFX: The sound effects of Perfect Release are also as subjective as the Perfect Release cue. The only difference is that one is visual-related and this one is audio-related.
6) Shot meter type: You can set the shot meter type to Curved Bar (Mini). However, you can also choose any other shot meter if you want.
7) Player indicator: Player indicator is the option that distinguishes your player on the court. You can set it to the circle style to make your player stand out.
8) Pro stick settings: Keep the pro stick function to default and pro stick orientation to absolute to get the best out of your pro stick.
9) Off-ball offense mode: Keep the off-ball offense mode Absolute.
10) Double Team Reaction: After setting the double team reaction to the manual, you will be able to get more control of the Double Team.
11) Pro Stick Defense: Set the pro stick to Absolute.
12) Receiver Control: You can set the receiver control to Get Open to have the best receiver control.
13) Pro Stick Pass Type: Although this setting is not very prominent in the game you can still set the Pro Stick Pass Type to Flashy.
14) Defensive Assist Strength: The defensive assist strength is set to 50 by default but it should be somewhere between 20 to 25.
15) Icon Lead Passing: You can enable the icon lead passing to get control over the receiver you are going to pass the ball manually.
These are some of the best controller settings in NBA 2K23 that will help you to get the best out of this game. Therefore, try these settings and get into the game. Also, for more updates in the world of tech and gaming, do not forget to visit Androidgram.