Want to know how to defeat the fifth boss of Pokemon Legends Arceus? It's not the last boss battle [as many would think], but it is certainly the last among the bosses you can just defeat. No, you cannot catch this humongous Hisuian Noble Avalugg and include it in your team! However, you can capture a normal Bergmite and evolve it to get a normal Avalugg. Let's find out how you can "quell the frenzy" of a Noble Avalugg in Pokemon Legends Arceus!
What is a Noble Avalugg?
Noble pokemons are a Legends Arceus-exclusive and Hisuian Avalugg is the last one of the five you will find in Hisui. The Noble kind is much bigger in size than Alpha or Normal Pokemons, also much more aggressive and strong. However, a Noble Avalugg possesses the same weaknesses as its Normal form. A Hisuian Noble Avalugg, like its Normal form, is an Ice- and Rock-type Pokemon. It is huge and glows as a bright-yellowed colored creature! One look at it, and you will realize the grind that will be required to put it down. You will encounter a Noble Avalugg in the twelfth main story mission – The Slumbering Lord of the Tundra.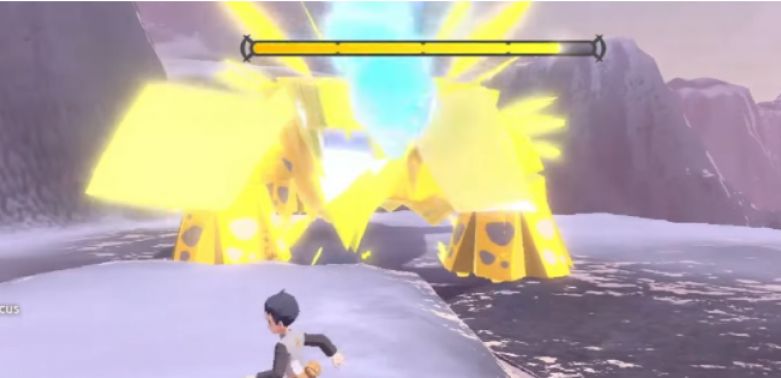 How to defeat a Noble Hisuian Avalugg in Pokemon Legends Arceus?
Before you approach a Noble Hisuian Avalugg, it is very important to know the importance of combining both passive and aggressive steps to defeat a Noble Pokemon. Yes, you will be prompted to battle a Hisuian Avalugg whenever it is stunned. But for the most part, you will be suggested to dodge its attacks and throw Snow Balms at it. You will get unlimited Snow Balms from an NPC before you head on to the location of Avalugg. To dodge an attack, simply press the B key on your Switch.
In Pokemon Legends Arceus, a Noble Hisuian Avalugg is known to yield four kinds of attacks:
1) Sweeping Ice Balls: Dodge in the opposite direction of the attack to avoid this.
2) Ground Icicle Attack: Don't stay in the direction of the attack.
3) Overhead Icicle Attack: Move and dodge to avoid this.
4) Sweeping Ice Beam: Dodge in the opposite direction of the attack to avoid this.
Now that you know how to tackle each attack of Avalugg, let's find out the moves to which Avalugg's power falls short. You can use Fighting- and Steel-type moves to defeat Avalugg easily. You can challenge Hisuian Noble Avalugg for a battle when it is stunned. Or, you can choose a totally passive approach and keep throwing balms and dodging attacks. The ultimate motive is to deplete Noble Avalugg's frenzy meter.
For more articles on Pokemon Legends Arceus and other video games, stay tuned to Androidgram!