Want to get "charmed" in Pokemon Legends Arceus? Well, those charms can get you a lot of protection from annoying obstructions, while you try to explore every bit of Hisui! However, one feature of charms that could cause hesitation among buyers is their price. Charms can get extremely expensive; you will need to farm a lot of Pokedollars to get all types. There's no doubt about the usefulness of charms in Pokemon Legends Arceus. But make sure that you have enough stock of Pokedollars in your pocket as a prerequisite. We will be listing the prices of all kinds of charms available in the game. The best thing about charms is that they are very easily available; just walk up to a particular NPC and ask for it! Keep reading to know more about charms and how to get them.
What exactly is a charm?
A charm is a very useful item in Pokemon Legends Arceus that protects players from inflicting damage and item loss. As you may already know, you could get knocked out by a ferocious Alpha Pokemon in the game and lose items in the process. You could also deal with inconveniences when some wild/enemy Pokemons deploy status moves against you. Charms help players avoid fainting, losing items, or inflicting status damage, depending on the type the player holds. You will actually consume charms; you will need to put a charm in your Satchel [under Everyday Items] for it to work. A charm will work only when its conditions are triggered and each is for one-time use. Once a charm is consumed, you can buy it again.
Charm Types
There are three kinds of purchasable charms in Pokemon Legends Arceus. Each kind has five types denoted by a different letter. The strength of a charm type can be determined by noting how expensive it is. Take a look at the list of purchasable charms and their price:
| | |
| --- | --- |
| Charms | Pokedollars |
| Survival Charm R | ₽ 3000 |
| Survival Charm B | ₽ 8000 |
| Survival Charm P | ₽ 15000 |
| Survival Charm T | ₽ 25000 |
| Survival Charm Y | ₽ 40000 |
| Tempting Charm R | ₽ 3000 |
| Tempting Charm B | ₽ 4000 |
| Tempting Charm P | ₽ 5000 |
| Tempting Charm T | ₽ 6000 |
| Tempting Charm Y | ₽ 7000 |
| Warding Charm R | ₽ 500 |
| Warding Charm B | ₽ 600 |
| Warding Charm P | ₽ 700 |
| Warding Charm T | ₽ 800 |
| Warding Charm Y | ₽ 900 |
As you can see, Survival Charms are extremely costly whereas Warding Charms are quite affordable in comparison.
There is also a rare charm type which is available only through completing a major achievement. A shiny charm adds three shiny rolls and thus increases shiny rate considerably. However, you can only get a shiny charm by completing research level 10 on all Hisuian Pokemons. A shiny charm is not purchasable.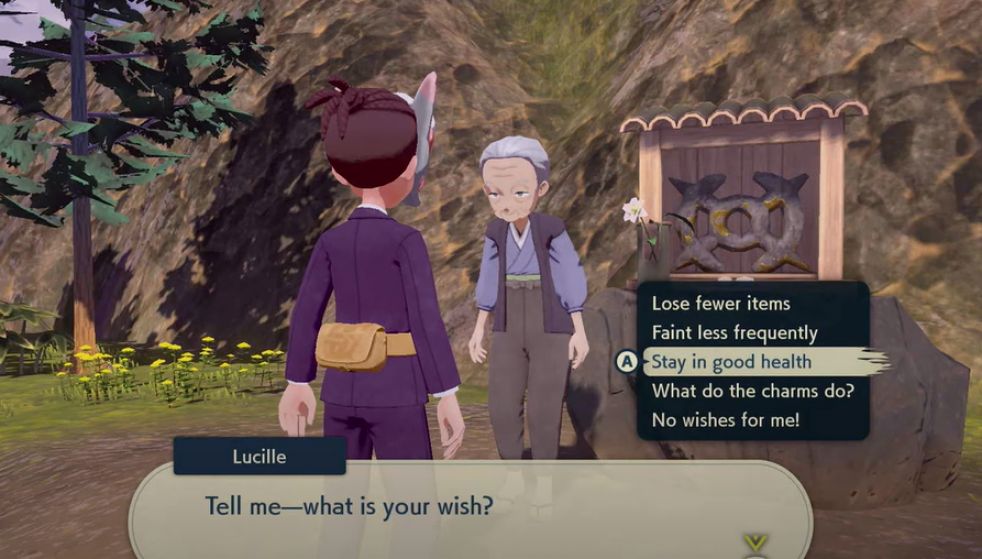 How to get charms in Pokemon Legends Arceus?
All purchasable charms can be obtained from a female NPC, named Lucille, in Jubilife Village. Head past the Trade Post, up the hill to locate Lucille. You can find her standing near to a Arceus Shrine, east of the Training Grounds. Head up to her and talk to her for options. For Survival Charms, you can choose the Lose fewer items option. For Tempting Charms, you will need to choose Faint less frequently. And lastly, you can get a Warding Charm by choosing to Stay in good health. To get a stronger type of a charm, you will need to buy the weaker type of that particular charm first. You can then choose the option for that charm again to get a costlier type.
To get a shiny charm, you will have to "complete" research level 10 on all 242 Pokemons which are a part of the Hisuian Pokedex. That's a long way! Upon completing this major achievement, you can just talk to Professor Laventon at the Galaxy Headquarters in Jubilife Village to get your shiny charm.
For more articles on Pokemon Legends Arceus and other video games, stay tuned to Androidgram!