Wondering how to catch a Manaphy and a Phione in Pokemon Legends Arceus? There are a few pre-requisites before you can get them. Manaphy and Phione spawn in Hisui only after you complete the main campaign. You cannot catch them before completing the main story. So, make sure you take care of this first. Once you are done with the campaign, you will unlock a host of post-game content including more requests. To catch Manaphy and Phione, you will need to activate Request No. 66, also known as "The Sea's Legend". To do so, head over to Professor Laventon's office and then to the blackboard inside the office. We will be elaborating on what you will need to complete Request #66 and locate Manaphy and Phione. Keep reading!
What are the pre-requisites?
As mentioned before, firstly, you will need to complete the main story of Pokemon Legends Arceus and choose to activate Request #66 at Professor Laventon's office. Now, according to veterans, this quest is actually linked to a Brilliant Diamond & Shining Pearl reference. As it happens, you will need to capture three Pokemons before heading on to catching Manaphy and Phione. They are – Overquil, Mantyke, and Buizel. Here's how you can get each one of them if you haven't already:
Overquil
An alpha version of Overquil spawns in Cobalt Coastlands. But if you haven't captured it yet, you could also evolve a Quilfish and get a Hisuian Overquil. Learn how to evolve a Quilfish into an Overquil from here.
Mantyke and Buizel
Catching a Buizel in Pokemon Legends Arceus is fairly easy as they aren't a rare spawn. You can find a Buizel in hilly regions of Cobalt Coastlands – Bathers' Lagoon or Aipom Hill – and also in Obsidian Fieldlands – Horseshoe Plains. Mantyke can be found in Cobalt Coastlands, mostly near the coasts. Summon a Basulegion and venture near the Ginkgo Landing and Tranquility Cove. Mantykes can be found swimming in a group; quickly throw a Pokeball to capture one.
How to get a Manaphy and Phione in Pokemon Legends Arceus?
Now that you have made sure of the pre-requisites, you can focus on capturing Manaphy and Phione. But before that, make sure you add Buizel, Overquil, and Mantyke to your party. However, the mythical duo only spawns during the evening. So, head to a base camp nearby and rest until evening. Once it's a perfect time, summon Basculegion and surf across the seas to reach near Sand's Reach in Cobalt Coastlands. Keep going across the coastline until you see two huge curved rocks. The exact location would be: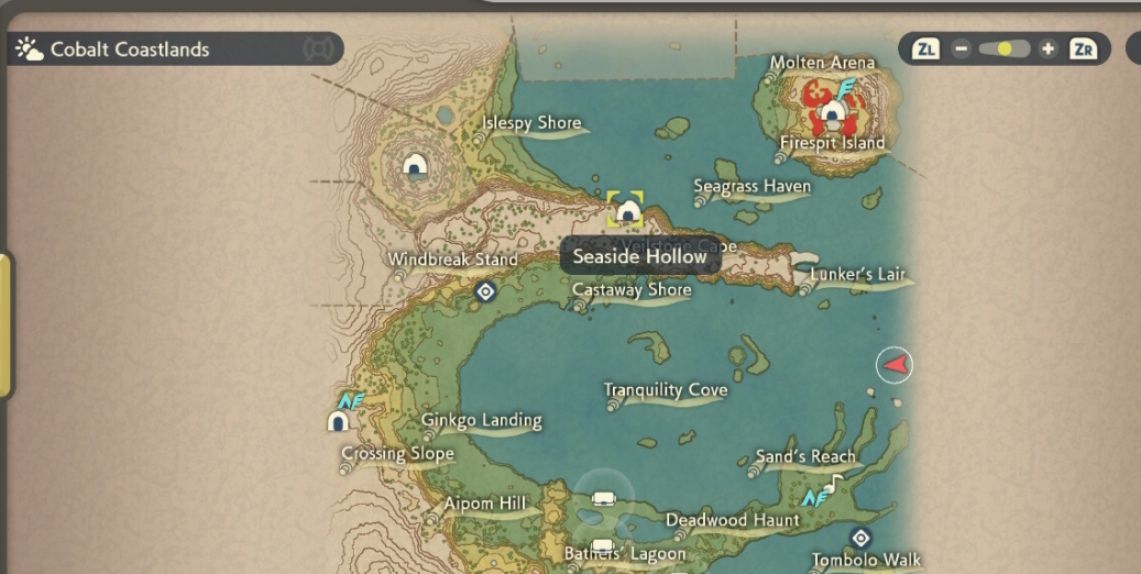 If you have done everything correctly, you would hear an announcement when you pass through the passage between the rocks. Continue surfing until you find a cave's entrance; enter the cave to find Manaphy and Phione.
How to capture Manaphy and Phione?
To capture both Manaphy (Level 50) and Phione (Level 33) in Pokemon Legends Arceus, veterans recommend using only agile-style moves to avoid defeating them. If Manaphy faints, you will not be able to capture it. As you may know already, Manaphy is incredibly rare, and losing this opportunity will increase your headache. Also, this is the only time you will be able to capture both Manaphy and Phione in one go.
Capturing Manaphy will also complete Request #66 and get you three Comet Shards, which are extremely valuable and a great source of Pokedollars. For more articles on Pokemon Legends Arceus, stay tuned to Androidgram!