Want to do something fun? Let's get some cleaning done with PowerWash Simulator! If you are a fan of life simulator games, this game simulates your daily cleaning routine. Sounds like a hard job, doesn't it? Well, it's a game and hence, won't be as hard as real-life cleaning. But, it is definitely a challenging game of cleaning!
PowerWash Simulator is a premium game that is great for your stress levels. Release the day's stress with a session of virtual dirt and grime cleaning. Clean the dirt off your car windows, and various parts of your virtual house using a power washer in PowerWash Simulator. This virtual cleaning game has been termed as very satisfying by its fans. Even though it is still in the early access mode, the game has managed to attract plenty of gamers (and, cleaning lovers).
PowerWash Simulator Gameplay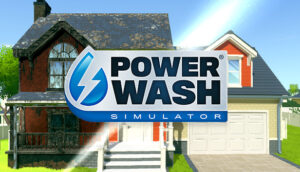 Release The Pressure. That's what PowerWash Simulator promotes. Water sounds are thought to be very soothing. Your power washer will let out high-pressure water to clean all the dirt and grime. The game is supposed to be very calming for your senses.
The game, basically, needs you to clean every bit of dirt from all nooks and corners of the map using your power washer. It will also allow you to set up your power washer business. Unlock new washers, tools, and upgrades to your machines while you clean the dirt as perfectly as you can.
Is that a career mode? Yes, PowerWash Simulator has a career mode that allows you to take up cleaning jobs across the dusty town of Muckingham. If you are wondering, there's no competitive gameplay in this mode. Built to be your stressbuster, this game has no scoring system. If you want a little more challenge, you can try the Challenge Mode where you get to beat your own score!
Is the game getting a VR Support?
By the description of the game, it is very clear that PowerWash Simulator will be great with VR. As expected, plenty of comments on the game's Steam Community page demands VR Support in the game. The game is incredibly satisfying on its own, and adding VR Support will make this game more pleasing, soothing, and a hardcore stressbuster. It's very surprising and exciting that such a simple game like PowerWash Simulator can do so much.

The developer of the game had also replied to the comments about the VR Support. The game is still in early access. It's natural for the developer to focus more on emerging bugs and glitches in the game.
Hence, the developer mentioned that a VR version will definitely be considered for the future. But for now, early access will be given more attention.