No matter how bad my day goes, I can always find the right amount of fun and thrill to neutralize it with Player's Unknown Battlegrounds. With extremely balanced gameplay and the right amount of violence, PUBG is amazing when you play with your friends or even when you go solo. PUBG is known for its massive but worthwhile updates. The most recent update has brought to its fans a new map, Taego. Many new gameplay features are made exclusive to Taego. Read this article to find out more about what the update brought in.
PUBG 12.2 update: a new map with new features
Taego is as big as Erangel, an 8×8 km map. With exclusive weapons and vehicles, this map is going to be a thrill to play. We are listing down the features you will find exclusively in Taego.
With Taego, two new gameplay features will be introduced: Comeback BR and Self AED.
Two new exclusive guns: The K2 Assault Rifle firing 5.56 mm ammo rounds and the MK12 DMR gun with high-velocity firing 5.56 mm ammo rounds.
A new vehicle, Pony Coupe, is also introduced on this map. It is a four-seater car, but the players sitting in the back can not shoot from the car.
A new Survivor Pass revolving around Taego
New wildlife, where flocks of birds show actions on encountering a player's movements or gunfire. A new way to spot enemies!
The update also brought around the following.
Performance optimizations and UI/UX improvement
A new chat system, called Whispers
New Items and Skins to own
Fixed reported bugs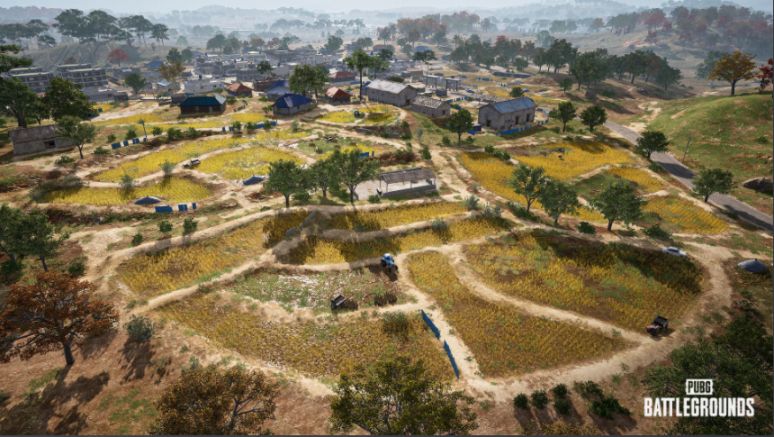 Comeback BR feature
Comeback BR allows players who died in the first Blue Zone phase to make a comeback into the game!
All players who die during the first Blue Zone phase battle each other in the Comeback Arena, a location made exclusively for this feature. If you manage to survive in the Comeback Arena long enough, welcome back to Taego! You will be dropped from a helicopter into the battlefields again and can now claim your chicken dinner by surviving till the end of the game.
Comeback BR is only available for squad matches played in Taego.
At least one squad member needs to be alive on the battlefield for the dead player to enter the Comeback Arena.
The player has to survive in the Comeback Arena by finding loot and killing other contestants. All of this till the timer ends!
There will be no bots in the Comeback Arena.
Self AED feature
The Self AED is another second-chance feature for players. The Self AED is a world-loot item that allows players to revive themselves when down-by-no-out, without the need of a teammate.
Use the interact button or the Self AED in your inventory to self-revive.
Cannot be canceled once started.

Cannot be used while already being revived by another teammate.

Squads: The Self AED can be used even if your entire Squad is DBNO, as a teammate holding the Self AED prevents your Squad from being immediately eliminated.

This gives you chance to self-revive and then revive your teammates.
If the whole Squad remains DBNO, you will be eliminated once all players with a Self AED are killed.

Solo: Having a Self AED allows you to enter DBNO instead of being instantly killed.

Self AED uses are recorded as revives in your stats.
I hope you are now thoroughly familiar with the two new exciting features exclusive to the Taego map. See you on the battlefields!