Wondering how to invite friends to play as a squad in Ready or Not? You will be pleased to know that the almost three months-old shooter game supports multiplayer, over and above the solo campaign. Ready or Not will remain in early access till the end of the year and the developers promise a lot of "new" in the upcoming months. Like previous content updates, we will probably see another set of new maps and modes. The multiplayer mode allows you to invite four of your friends, completing the five man squad for an online co-op match. But mind you that there's no local co-op in the game. So, how can you invite friends to play Ready or Not together? Let's find out now!
How to invite friends in Ready or Not?
First and foremost, you will need to add your friends to your Steam Friend List. Make note of their Steam Account Names and send them a request; or ask them to send one to you. Without this step, you will not be able to invite your friends to join your lobby. Once the requests are accepted, you will be able to see your friend on your in-game friend list. As you may have realized already, you can create a lobby which your friends can join. Or, you can choose to allow random players to join too. Online games are a great way to meet new people, and a very successful way to find a community of gamers for yourself. However, many like to steer clear of random players. Moreover, Ready or Not is heavily based on team work. You will not be able to win games without team communication.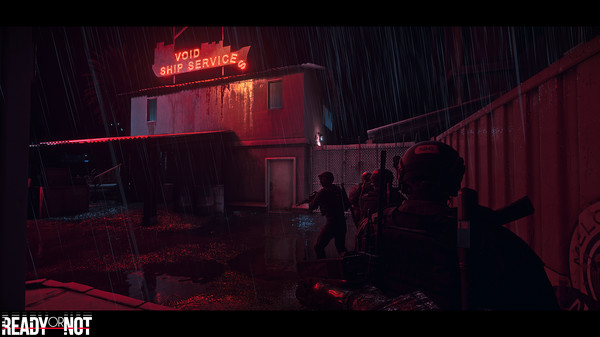 To invite a player, create a lobby and send a request to your friend. Once the friend accepts requests, he/she will appear in your lobby. It's as simple as that. You can also join a friend's lobby, if he/she has created one. However, if you are unable to invite friends or they are unable to accept your request, it's time for some troubleshooting! Make sure your internet connection is stable, and once you have so, restart your computer. Ask your friends to do the same. This may fix the glitch that is causing the problem. If you are unable to invite the friend in-game, try inviting him/her via Steam.
Ready or Not is in its early stages and is expected to grow better in days to come. We are also expecting new maps which will glorify multiplayer even more. The game has some serious potential to become a popular multiplayer shooter game for friends. As of now, the game is available only on PC and the developers haven't shunned the idea of a Xbox, PS, or Switch release. The multiplayer possibilities in Ready or Not are bound to grow in the days to come!