In-game stores are the main source of profit for video games. Let's face it, video games need a considerable amount of profit to maintain their servers, regular updates, and sustain overall. Both Pay-to-play and Free-to-play games thrive on in-game purchases. Players also have something to own in the game. An attractive inventory is cool to own as well. However, Rust is still missing an in-game store in its console edition.
The game is about surviving till the end, overcoming obstacles, finding food, and protecting yourself from other players, who are your enemies. It is pretty interesting and can keep fans hooked on it for hours. Rust is a survival game that has been awaiting an in-game store in its console edition for a long time now. The game has heavy weaponry and a few items which can use a makeover. Read the article to know more about the store release date.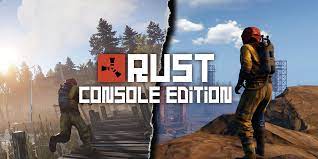 Rust Console Edition: Will there be an Items Store or Skins store?
Considering a tweet by developers in May, an Items Store was anticipated in Rust Console Edition. Moreover, the game was supposed to include a store during the launch itself. But, due to performance issues and bugs, the developers decided to focus on things that needed more attention.
We had plans to release the skins store soon after release but due to some of the issues we decided it's best to postpone it and keep focusing on performance. The skin store should be live within the next two weeks, And we can't wait to show you what we've been working on!

— Rust Console Edition (@playrustconsole) May 20, 2021
But, we never saw the release of the items or the skins store to date. How a game like Rust is managing without an in-game profit is surprising and unknown. Fans are pretty disappointed too.

However, you can own a few elite gun skins. There are three editions you can buy from the Microsoft Store for the Xbox edition and the PlayStation Store for the Playstation edition. Those include a normal edition, a deluxe edition, and an ultimate edition. Out of the three, only the Ultimate edition includes an Elite Combat Skin Pack. It includes the following: Elite Combat Assault Rifle, Elite Combat Machete, Elite Combat Metal Chest Plate, Elite Combat Metal Facemask, and Elite Combat Pants.
The in-game store for items and skins release in Rust Console Edition has no new information as of now. We don't know when the store will be available for players. However, Rust's PC edition has a items/skins store that can be accessed through Steam.
Some console players do not care for gun skins at all. According to them, the developers should focus on all the bugs and performance issues first. A video game will always have issues that need to be fixed from time to time. If developers start focusing on item stores, those fixes remain ignored and, over time, start affecting the game's playability.
Ultimately, it depends on a player's individual priorities!