Facing the EQU8 error in Splitgate? It's not you, it's Splitgate. Several other fans like you are facing the EQU8 error, which keeps kicking them out for suspicious activity. "But, I haven't cheated." We know you haven't. But, this error has been occurring for players irrespective of whether they cheated or not. As noted by some players, this issue has been bothering them since the new update was deployed. What is the EQU8 error code, and why is this error happening without reason? Read this article to know more about it.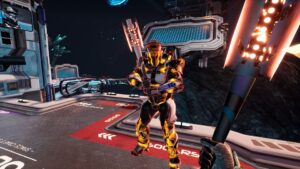 What is the EQU8 error in Splitgate?
The EQU8 is an anti-cheat system for multiplayer games. Many popular video game companies use it to ward off cheaters and illegal mod users trying to disrupt the normal gameplay. Splitgate's developers, 1047 games are partners with EQU8 and EQU8's anti-cheat system powers Splitgate. You are getting an error because of an internal conflict between your system, the game, and the anti-cheat software.
The full error message shown to most players is, "You were kicked from the match for suspicious activity.
EQU8 Error Code:00×23002460090798". Most players are perplexed since they haven't used any cheats or mods in the game. Splitgate is a free-to-play game and hence, will attract a lot of hackers. An anti-cheat system was obviously necessary to put a check on the disruptors. But, since the recent Season 0 update of Splitgate (as reported by some players), the EQU8 error has stopped legit players from entering matches. Some players said that they could play the Team Deathmatch mode but were unable to play ranked matches, Team Rumble Playlist, and a few other modes. Here's a Reddit thread that discusses the topic.
When errors like this pop up, there will always be some rumored, unofficial fixes. Players have tried all sorts of troubleshooting like rebooting, repairing game files, reinstalling the game, etc. But none of them seems to work. Here's a comment from a Reddit thread that said that the issue fixed itself after a while.
Nobody knows why this error is happening, and 1047 games haven't acknowledged the issue officially as yet. Hence, there is no fix yet. However, we are guessing that this mess will be fixed soon by another patch.
Stay tuned for immediate updates on this topic.