Splitgate's servers are still loaded as the average number of players continues to increase. Fans are waiting for the official release of the game since forever. The game had introduced console and crossplay support in its Beta phase since July 13. Since then there has been a constant increase in players eventually leading to a server breakdown.
Now that developers have pushed the release date to the end of August (tentatively), the game is back to its beta version and has running servers. But server wait times can be unbearable and unstable sometimes. Considering the load on the servers plus the launch time issues, we can expect a few bugs (both minor or major) in the game. The game chat issue is another identified bug among a few others.
Are you facing the same issue with Splitgate's game chat? Read this article to know more about the issue and its possible fixes.
Splitgate Game Chat not working?
So, your game chat in Splitgate is creating a nuisance. Don't worry, you are not the only one. Several others have been facing this issue since the launch of the Beta. To elaborate on the issue, the game chat works for a few seconds and suddenly stops working. Some players can't hear the chat audio even for those few seconds. According to players, the game chat is fine when the players are in the lobby. Once they enter the game, the chat glitches. The good news is the Splitgate team has already acknowledged the issue in July and is working on a patch to fix this issue and several others.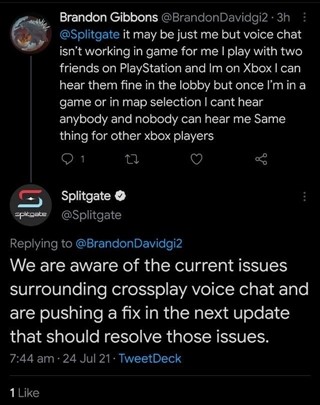 In the meantime, you can try a few things which will confirm whether there is an issue from your end.
Check your internet connection: Voice chats may get glitched very easily if your internet connection isn't stable. Try switching networks, or restart your router to ensure there's no discrepancy.
Restart your game: There may be several minor bugs in Splitgate right now. But, there's a huge chance most of them fix themselves. Restart your game and see if the same issue persists in the next match you enter.
Restart your console: Follow specific steps for your console and restart them. You can also try unplugging and plugging back your consoles.
Check Splitgate's servers: They are going down a lot!
If you are a PC player, you can try these tips to fix the issue. To open your in-game settings, click on the triple bar button (≡) on the top right of the lobby window and select Settings. Some things you can change in your in-game settings which might help:
Go to PRIVACY Tab > Disable PARTY CHAT ONLY
Then, go to AUDIO Tab > Set VOIP VOLUME under VOICE CHAT to MAX (100)
In AUDIO Tab, under VOICE CHAT check OPEN MIC (TEAM ONLY) if you want your mic to be on all the time. Or else, by default it will be on push-to-talk.
In AUDIO Tab, under VOICE CHAT select the correct VOICE CHAT INPUT DEVICE according to the speaker/headphone device you own.
That's all you can do from your end. The game chat issue is not a problem from your side; the developers need to fix this issue. However, as mentioned earlier, the Splitgate team is already working on a fix for the same. If it is not fixed by a patch, it will definitely be fixed by the official launch of the game. Till then, you can try Discord for in-game communication.
Should be fixed for the launch!

— Splitgate (@Splitgate) July 22, 2021