Although a few evergreen video games inspired Splitgate, we can fairly say that it gained the popularity due to its simplicity. In 2021, video games, especially shooter games, have become repetitive, not to forget the increasing number of players using unfair means to win. Splitgate is a breath of fresh air for all shooter game fans out there. The game is still in its beta phase, and the official version is yet to release possibly this month itself.
Want to know how to complete Splitgate Stadium Race faster than everyone? Read this article.
Splitgate: What are the modes available?
Splitgate has managed to induce fun in simplicity. Not only video games but the success of any application on the internet is also based on how simple it is to understand. Modes like Team Deathmatch and Domination in video games were fan favourites in the 90s, mostly because they are very easy to get hold of. Splitgate brought back all the evergreen, fun modes: Team Deathmatch, Domination, Gun Game, Team Shotty Snipers and many more. Along with all these, Splitgate added speed runs as well. Speed runs basically require you to finish a mode as quickly as possible. It won't be like the actual picking-up-a-gun-and-shooting mode. Splitgate has put these races under the Training mode. One of such races is the Splitgate Stadium Race.
Stadium Race: How to complete fast?
There are various maps in Splitgate. The Stadium is one of them and very popular due to its video game feel. The Stadium race requires you to complete a speed run on the Stadium map.
The key to completing a speed run fast in Splitgate is to master make portals whenever necessary. Toby Repellant, the current world record holder, makes portals before collecting the oddballs, even those in front of him. Keeping in mind how to exit a room faster can save you many half seconds, eventually getting you a record finishing time. Once you master making portals, you can collect oddballs without even realizing it. It is also important to maintain momentum while moving. In one particular run, Toby Repellant was seen creating eight portals seconds before he fastened the world record. Here's the video. However, such speed and momentum can be maintained better on the PC platform. Consoles wouldn't allow that kind of fast reaction time.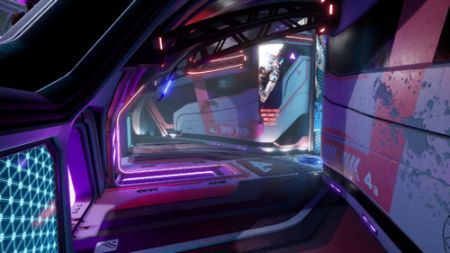 Understanding how Toby Repellant completed the Stadium map of Splitgate in record time can help you complete it fast as well. However, it's pretty confusing if you just watch his video completing the race. Have a look at his video down below.
A YouTuber named Benzai has broken down each small movement from the video and explained how it was achieved. Although it is completely up to your skills and practice, you can check out the tutorial down below to gain insights.
Like Stadium, you can also get a record in Pantheon. Check this article.
Hope you get that Stadium record in Splitgate soon!